Exclusive
Victory For Lindsay! Judge Rules Lohan's Shopping App Can Go On Sale As Ex-Partner Loses In Court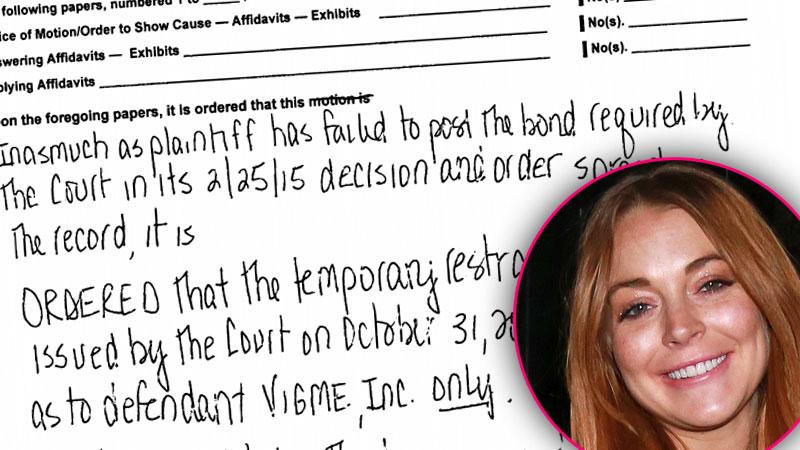 Lindsay Lohan's company can start marketing its own "virtual closet" app because a man who's suing the actress for allegedly stealing his idea couldn't afford a bond needed to keep a temporary restraining order in place, according to court documents obtained by RadarOnline.com.
Lohan's former business partner Fima Potik told the judge overseeing the case that Lohan's alleged appropriation of his Spotted Friend app has put him in a financial position that prevents him from posting the $100,000 cash bond ordered last month.
Article continues below advertisement
This triggered a decision by the judge to lift the TRO against Lohan's company Vigme, Inc., although it still remains in place personally against the actress and her brother Michael Lohan Jr. "In as much as the plaintiff has failed to post the bond required by the court in its 2/25/15 decision and order spread on the record it is ordered that the temporary retraining order issued by the court on October 31, 2015 is vacated as to the defendant Vigme, Inc. only," the judge wrote.
Potik's app is designed to allow shoppers to peek inside the celebrity closets and purchase items they like. Lohan's lawyer argues Potik has yet to say what secrets Lohan's company stole and used in its app that weren't already in the public domain.
The lawsuit, which seeks $60 million in damages against the Lohans and their company, is expected to go to trial in a New York court next year unless the judge tosses it or the parties settle.