Kyle Richards Fights Back: Lisa Rinna's Treatment Of Kim 'Not OK' -- Plus, Why She Fled The Scene​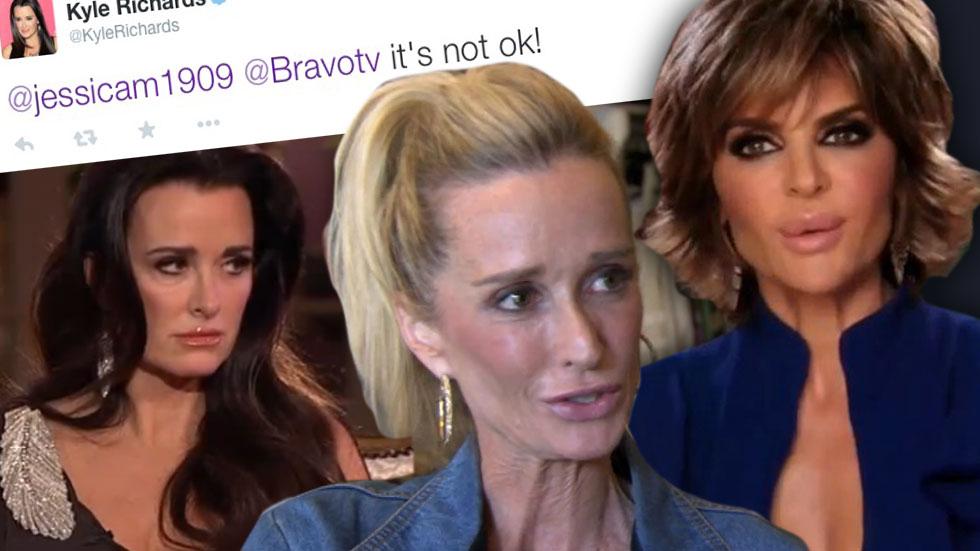 The bitter feud between Lisa Rinna and Kim Richards came to a dramatic head on Tuesday night's episode of RHOBH, and ended with Rinna furiously smashing a wine glass in Kim's direction.
The shocking conflict blew up during what should have been a civilized girls' night dinner in Yolanda Foster's hometown of Amsterdam.
Kim may have stunned viewers when she zeroed in on Rinna's "imperfect" personal life – specifically, her husband's alleged issues with substance abuse – but no one expected Rinna to react so violently.
Article continues below advertisement
As the episode aired, Kim's sister Kyle weighed in on the matter, taking to Twitter to call out Lisa's "unacceptable" behavior.
After the brawl, one Twitter user asked: "@Bravotv @KyleRichards @KimRichards11 Kim was outta line but why is it ok 4 Lisa 2 go 4 Kim's neck & throw a glass?"
Kyle boldly tweeted a reply: "It's not ok!"
Of course, Kim had also taken a few cruel stabs at her sister during their dinner conversation, bringing her to tears when she said, "I never need you to defend me because you never have."
Despite Kim's harsh words, Kyle continued to bat for her sister on Twitter during the airing, calling Rinna's actions offensive and admitting that this season has been "very hard" for everyone.
Watch the Video On RadarOnline:
While the rest of the cast attempted to get between the two housewives, Kyle fled the scene. After the episode aired, the reality star called in to Watch What Happens Live to explain why she ran rather than come to her sister's defense.
Watch the Video On RadarOnline:
Later, Kim explained her verbal attack: "Alcohol ruled my life. It called all the shots. And it took a heck of a fight to get it back. I'm not gonna let one person go around putting doubt in people's minds."
Rinna also apologized for her behavior, insisting that she and Kim were "good" and looking to move forward.
"I f***ing lost my f***ing marbles," she admitted.
Do you think Lisa Rinna was out of line? Or is Kim the one to blame? Let us know in the comments below!