Exclusive
Screaming & Tears! Lisa Rinna & Kim Richards Feud Erupts At 'RHOBH' Taping — Explosive Secrets From The Set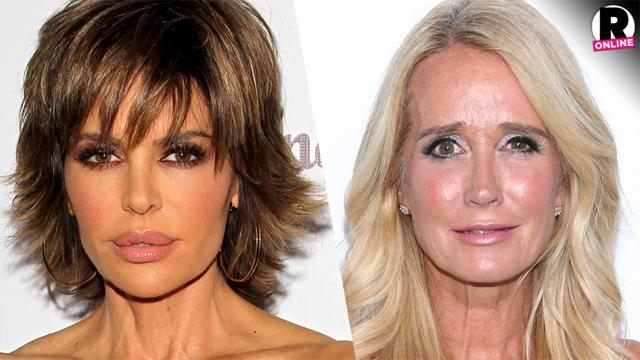 It wouldn't be a Housewives reunion without tantrums and tears. And at this year's Real Housewives of Beverly Hills roundup, Lisa Rinna and Kim Richards provided plenty of both! The feuding co-stars faced off on set, and months of tension exploded in a dramatic showdown.
The tension stems from Rinna's outspoken comments about Richards' sobriety — or lack thereof.
"Lisa didn't back down when Andy asked if she had any regrets about bringing it up among the ladies. Without hesitating, Lisa said, 'absolutely not.' It was a very important issue that wasn't being addressed, and Lisa thought something needed to be done to ," an insider told Radar.
Article continues below advertisement
"Obviously, Kim had issues with things that Lisa had said, and accused her of trying to exploit the issue to keep the attention off of to Harry Hamlin. Those remarks from Kim brought out the claws, and there was another round of yelling," the source continued. "There was screaming and tears."
Rinna gave a during a recent appearance on Watch What Happens Live, when Rinna told Andy Cohen she had no qualms about a verbal confrontation with Richards.
"Would you do it all again?" the Watch What Happens Live host asked Rinna after showing the clip of the ladies' argument.
"I'd run for the f**king hills," she admitted, but then said that she wouldn't change her reaction to Richards, who said Rinna was trying to "take her sobriety down."
She also added that she knew what she was getting into before joining the show: "If you poke the hornets' nest you're going to get stung," she joked.
During upcoming episodes of RHOBH, viewers will see Richards and Rinna become involved in two physical altercations.
The ladies' trip to Amsterdam, and a party Adrienne Maloof hosted "almost had Lisa and ," the source revealed. "Viewers will be stunned by how vicious it gets."