Kourtney Kardashian Teases Instagram Followers With Baby Photo...But It's A Mason Flashback Snap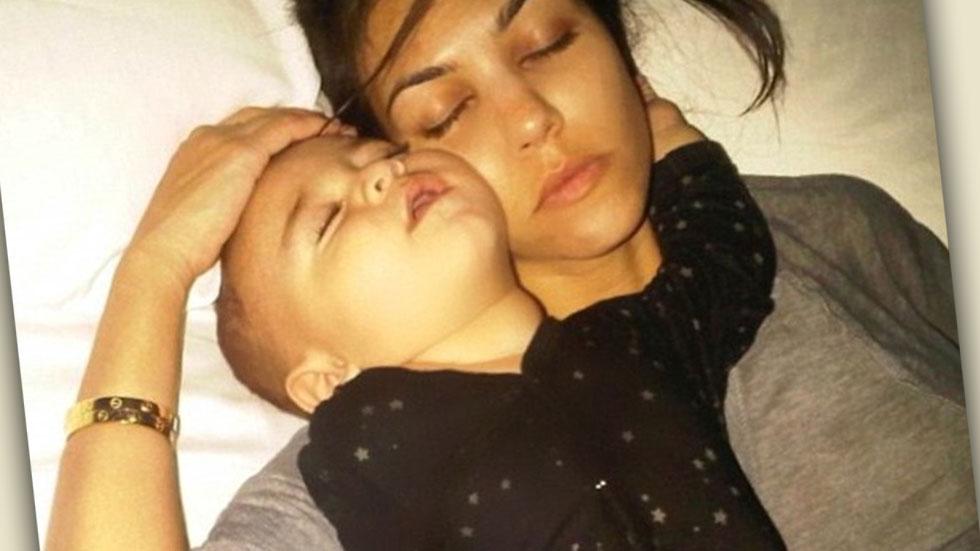 Since the birth of her third child Reign Aston Disick on December 18, Kourtney Kardashian has yet to share a photo of the little tot's face.
As a cruel tease on Monday, Kourtney tormented social media followers with a snap of a sleeping baby boy on her Instagram account.
But alas, it was a flashback photo of Kourtney's first-born son Mason, now five-years-old. In the photo, Kourtney and Mason sleep peacefully with their arms wrapped about one another in a fond embrace.
Article continues below advertisement
Kourtney captioned the photo: "I found this picture of me sleeping with my first little angel baby, Monsieur Mason Dash. This is what life is all about."
https://instagram.com/p/zv-4huE1lB/?modal=true
As darling as it was, Kourtney fans and followers were hoping the reality star would share a tad more of little Reign.
Kourtney first debuted a photo of Reign a week after he was born, but forgot to include the most important feature of all – his face.
https://instagram.com/p/w4C6VuE1rG/?modal=true
She captioned: "Madly in love with my little Reign Aston Disick,' she wrote also revealing the child's birth name for the first time."
Just a few weeks ago, the Keeping Up With The Kardashians star shared yet another mystery snap, this time of Reign's mini-me boots.
https://instagram.com/p/zLhhLOk1jm/?modal=true
Will she ever show Reign's face?! Only time will tell.