Exclusive
What Feud? Kim Richards Insists She'll Return To 'RHOBH' Despite Fight With Sister Kyle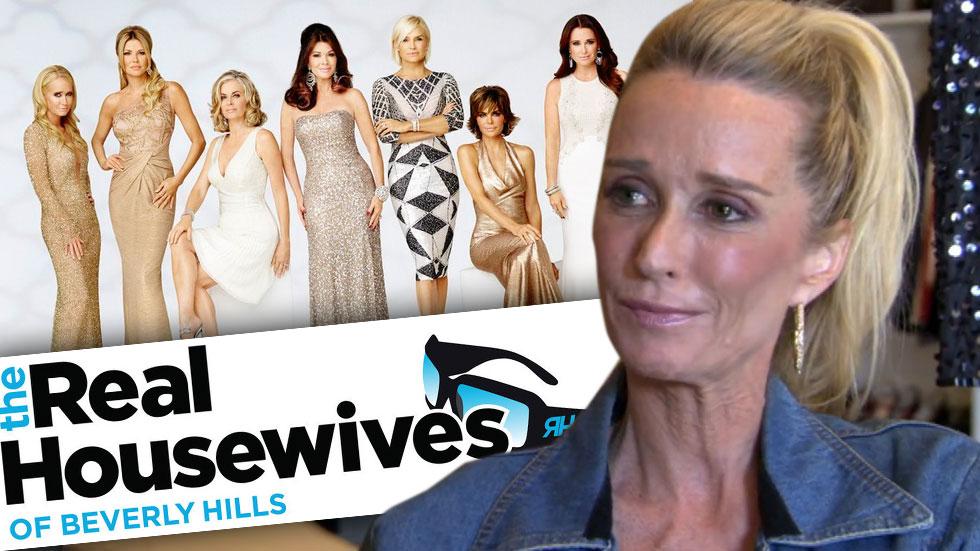 Kim Richards has no qualms about letting her family drama play out on camera. As she continues to weather a messy feud with sister Kyle Richards, RadarOnline.com has learned, Kim is vowing to return to the Real Housewives of Beverly Hills next season no matter what.
Even as one of Kim's adult children remains hospitalized for psychiatric care, "Kim plans to come back for another season of RHOBH," an insider told RadarOnline.com. "The feuding with Kyle doesn't seem to faze Kim at all. The show is also only her only source of income, and Kim has bills to pay!"
Article continues below advertisement
"Having found a friend in Brandi Glanville, Kim now feels more comfortable with the show," the source said. "She doesn't feel the need to lean on Kyle any further for support."
But the feud isn't Kim's only stressor these days.
RadarOnline.com broke the story: One of Kim's adult children was recently hospitalized in a mental health facility.
Richards is mom to Kimberly, 21, Chad, 22, Whitney, 24, and Brooke, 29, with exes Monty Brinson and Gregg Davis, and one of them recently entered a psychiatric facility after suffering from depression. RadarOnline.com has chosen not to identify the individual receiving treatment .
The hospitalization has only intensified the rift between Kim and Kyle.
"Kyle has texted Kim to check in regarding the hospitalization, but she hasn't received any response," a source previously told RadarOnline.com. "The sisters are further apart than ever even though Kim could use Kyle's support. It's just an incredibly sad situation because Kim has so much stress in her life including dealing with her beloved ex-husband, Monty's terminal cancer."
The sisters' fighting erupted during the taping of the RHOBH reunion.
In addition, ongoing questions about Kim's sobriety have been lingering since she appeared on recent episodes of RHOBH, slurring her words. She admitted to taking a pain pill prescribed to her cancer-stricken ex-husband, Monty.
The show will "definitely benefit from the added off screen drama between Kim and Kyle," the source added.