Exclusive
Richards Sisters At War! Kim & Kyle Go Head To Head At 'RHOBH' Reunion Taping — Why They're Not Speaking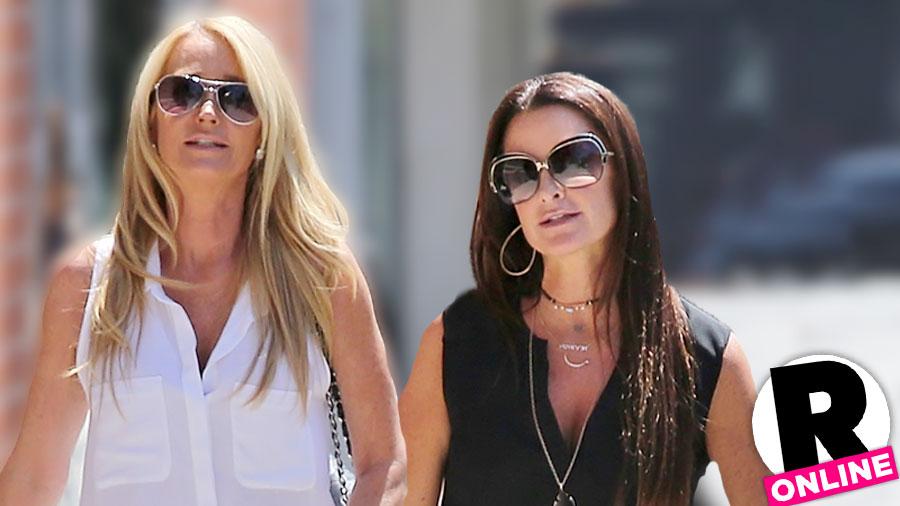 The simmering feud between Kim and Kyle Richards reached its breaking point at the recent taping of the Real Housewives of Beverly Hills reunion. Estranged ever since Kim's pit bull, Kingsley, attacked Kyle's daughter, Alexia, the sisters finally confronted each other in front of the cameras — and RadarOnline.com has learned that it got nasty.
Reunion host Andy Cohen was quick to get at the heart of their issues, asking about the incident when Kim's beloved dog bit her niece, sending her to the hospital.
Article continues below advertisement
"It was a very emotional and raw conversation as Kim described what had happened with the dog and Alexia," an insider told RadarOnline.com. "But when she revealed that she hoped Kingsley could be trained to not be so aggressive, and returned to her home, Kyle just rolled her eyes."
"According to Kyle, the dog needs to be kept away from her sister, and other people, because the animal is just too dangerous," the source continued. "For Kim to even consider keeping Kingsley was appalling to Kyle because of the risk of further injury to others. Kim just refuses to acknowledge the dog is dangerous and still won't give him up."
"There were a lot of tears during the conversation, and it only adds to the ongoing rift between the sisters," the source said.
Kyle's 18-year-old daughter was attacked last November, requiring medical attention at Cedars-Sinai Medical Center. But the aggressive pooch also previously attacked Kim's "second mother," 80-year-old Kay Rozario, as RadarOnline.com reported.
"He ripped my hand open down to the tendon," 80-year-old Rozario previously told RadarOnline.com. "Blood was everywhere. I was soaked in blood. The floor was soaked in blood!"
Article continues below advertisement
"While Kyle has publicly supported Kim keeping the dog since then, it's very different behind closed doors," the insider revealed. "Kingsley, a pit bull, has a history of biting people, and Kyle thinks it's just irresponsible to keep the dog. It doesn't matter that the dog has been sent off to yet another trainer. In Kyle's opinion, Kingsely is very dangerous and needs to be re-homed. Kim is choosing the dog over her family, and it's absolutely appalling to Kyle."
celebration, Kim "wants nothing to do with her sister right now," the source said. "It's just not about Kingsley. There are feelings of betrayal coming from Kim because she thinks Kyle didn't come to her defense when there were questions about her sobriety during filming for the show."
Whose side are you on? Let us know in the comments!