Exclusive
More Kardashian Fakery! Kim's New Platinum Blonde Hair Is Actually A Wig — How She Fooled Fans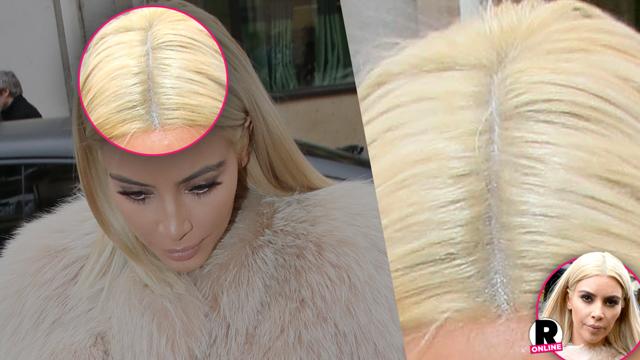 It's still a few weeks before April 1, but Kim Kardashian's already fooling fans with a new form of Kardashian fakery. RadarOnline.com has learned exclusively that her shocking platinum blonde makeover is not her real hair – it's a wig!
"The first top quarter of her hair in the front is bleached, but the rest isn't," said an insider. "It's bleached on the top and sides – and the rest is a wig."
Kardashian has flaunted the daring new look all over Paris, even taking selfies in the hairdresser's chair and getting a rinse in the sink.
Article continues below advertisement
But as RadarOnline.com has exposed, the icy 'do is all for show only.
"It's parted perfectly and at different lengths and you always see the front of her head so it looks like it's all normal, but it's trickery," said the source close to Kardashian's Glam Squad.
"The rest of her hair is still brown. Just watch, you'll see her go back to brunette like it's no problem at all complete with healthy, shiny hair," added the insider.
"That's because it's fake. It's definitely not all bleached."
And she has her expert stylists to thank.
"It's a trick when talent doesn't want to ruin their whole head of hair," said the source. "It's all an illusion, like her life. She wanted to figure out a way to get a lot of attention in Paris. She's always trying to steal the spotlight."
But in the pursuit of creating a fan frenzy, her attention-getting 'do is turning out to be a big don't.
Article continues below advertisement
"The front part is breaking and she's worried that it will look bad in the front and her hair will look normal in back," continued the source. "She didn't think it would be a problem to go back to brunette quickly. But now her plan is screwed."
This isn't the first time the plastic surgery-obsessed reality star has tried to pass her beauty fakes as the real deal.
In June 2014, she posted a pic of herself donning long summer blonde locks in NYC, writing: "It's baaaaack!!!! #BlondeHairDontCare thanks to @SergeNormant", only to give the big reveal later: "It's just a wig! Looks so real though right?"
Watch: Kim Kardashian asks Bruce Jenner if he's dating Kris Jenner's friend