Hairy Hijinks! Kim Kardashian Reveals New Blonde Look Is Actually 'Just A Wig!'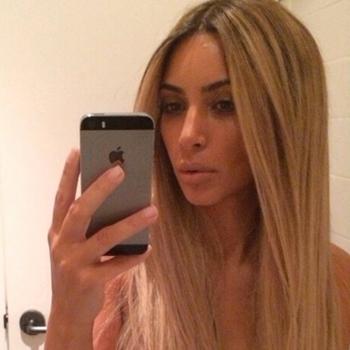 It's not April 1, but Kim Kardashian fooled all of us Wednesday in showing off a summery new blonde hairdo, which she revealed to be a very realistic looking wig, later on in the day.
"It's just a wig!" the 33-year-old reality TV starlet wrote in an Instagram post. "Looks so real though right?"
Earlier in the day, the Calabasas native posted an image of herself with the light locks, writing, "It's baaaaack!!!! #BlondeHairDontCare thanks to @SergeNormant," then stepping out onto the streets of New York, causing a major stir amongst fans with her Barbie-esque mane.
Article continues below advertisement
The socialite wife of Kanye West earlier discussed her blonde ambitions on the social media site Mobio Insider, where she wrestled with the decision over which way her tresses look best.
"I'm so annoyed I dyed my hair dark!" she wrote. "I wanted to switch it up since I feel everyone went light, and we started filming a new season of Keeping Up With the Kardashians, so I wanted a fresh look.
"BUT now I am missing my light hair! HELP!!! What do I do? Go light again or stay dark and get used to it?"
Readers, what do you think? Should Kim actually take it blonde, or is she better off with the brunette look? Sound off in comments.