Death Threats, Attacks & Conspiracy Theories: 'Juror 17' Speaks Out About Fallout From Jodi Arias Case—'It's Scary'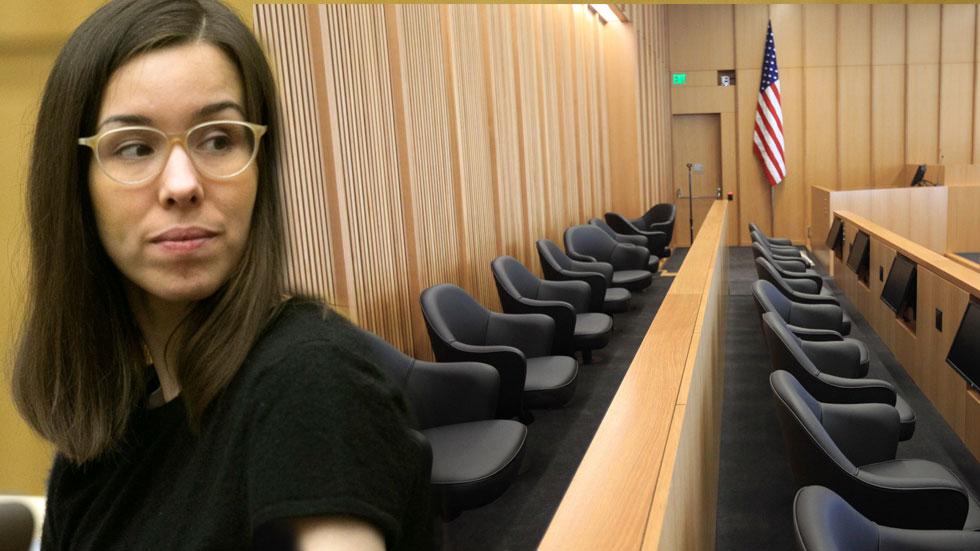 The lone holdout juror who saved Jodi Arias from death row is finally speaking out about sticking to her decision and the fallout she's experienced as a result.
Known as Juror 17, the 33-year-old mother of three sat down for an interview with Arizona's 12 News, in which she discussed everything from receiving death threats to conspiracy theories surrounding the case.
"It's scary. There's people that hate me that don't even know me," she said. "I feel like I'm being judged. I didn't ask for this. I just showed up for jury duty."
Article continues below advertisement
Juror 17 and 11 other jurors deliberated for five days over whether or not Arias should be given the death penalty for the brutal 2008 murder of her one-time lover, Travis Alexander. But Juror 17 refused to change her stance that she shouldn't be killed by the state, resulting in a mistrial. Her obstinance has led some to believe she purposely got on the jury to wreak havoc.
But Juror 17 insisted that the conspiracy theory that she was a pre-selected "stealth juror" is ridiculous.
"It wasn't easy, I didn't ask for it, I didn't want it," she said of serving as a juror. "All I did was answer the questions truthfully. I didn't want to be involved. I didn't want this pressure."
"I would hear people talk about it and it wasn't something I really wanted to get sucked in to — not with the problems I had going on at the time," she continued.
Juror 17 also pointed out that it would have been hard to have been purposely selected since there were "a lot of cases" being heard in the courthouse that day.
Article continues below advertisement
"What are the odds that I'm going to be called in for that case?"
However, she realized the gravity of her situation when she walked into the courtroom she was called to and saw Arias sitting there.
"From that very moment I was, like, 'Oh my God,'" she said. "I want to say that I was shaking even. The seriousness of the matter hit me right away."
She was in for even more stress after it came out the day of the mistrial announcement that her abusive ex-husband was sent to prison 15 years ago by Juan Martinez, the prosecutor in the Arias trial. Some said the connection played a role in her decision to deny prosecutors the death penalty they so badly wanted.
Juror 17 sees it differently. "My struggles and my frustrations were always directed towards him," she said of her former spouse.
As for the prosecutor? "It's preposterous to me to hold a grudge or to blame somebody for doing their job," she said.
Juror 17 also revealed that she simply didn't remember Martinez until much later.
"When I walked into the courtroom and I saw him for the initial jury selection the only memory that I have of recognizing him is from TV," she said. "Nothing beyond that. Nothing past that."
Article continues below advertisement
And when the conspiracy theory about her connection to Martinez hit the Internet, she immediately let court officials know of her link to the lawyer.
"I gave all my information up front," she said.
This wasn't the only instance of questionable circumstances involving the mysterious Juror 17. As RadarOnline.com reported, the woman admitted she had watched "bits and pieces" of Dirty Little Secrets, a Lifetime movie about Arias that first aired on cable in June 2013.
"I think she came in and expected to see a monster in there because of what she saw on TV and the news and when she came in and saw it wasn't," one juror said of the revelation.
Now that the Arias trial is in Juror 17's past, her situation hasn't improve.
"After the verdict was announced, the judge ... told us the media already had our information. That some of us had been followed home," she revealed, noting that she's under police protection since her name, address and other personal details were leaked online.
Arias is now facing life behind bars. On April 13, a judge will decide whether she will be eligible for parole after at least 25 years served.
WATCH THE VIDEO