Destined To Die? Jodi Arias'Life On Death Row Would Be Bleak -- Inside The Hell That Could Await Her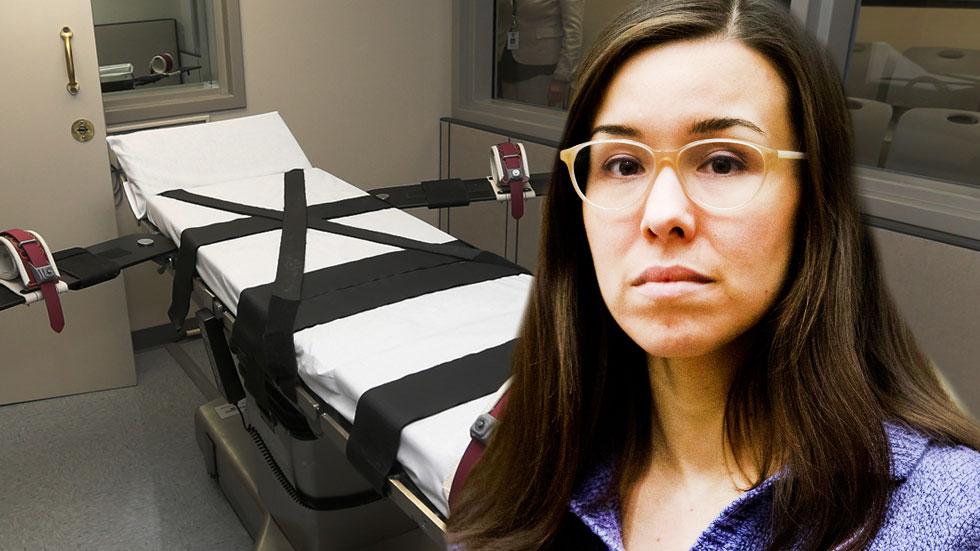 If jurors decide Jodi Arias should die for for the brutal murder of ex-boyfriend Travis Alexander, her jailhouse life would almost immediately change for the worse when she's placed on Arizona's death row.
Unlike her time in the Maricopa County Jail, Arias, 34, won't sing Christmas carols at prison parties and she won't have a chance to socialize with the only two women now on the state's death row, if sentenced there. Condemned killers are not allowed contact with each other.
Article continues below advertisement
While waiting for a date with Arizona's lethal injection table — which on average takes over 17 years after sentencing — Arias could spend thousands of lonely hours in a tiny cell in the the Lumley Unit of the Arizona State Prison in Perryville, just west Phoenix. Inside, she would find just a toilet, sink, bed and mattress, although she could have "hygiene items, two appliances, two books and writing materials, which can be purchased from the inmate commissary," prison rules say.
Meals would be served by a guard through a narrow slit in the metal door. Arias would be let out of the cell for two hours of outdoor exercise three times a week "in a secured areas" and for three showers each week, according to the Arizona Department of Corrections.
If she requires medical attention, the doctor would make a cell call. If the Holy Spirit were to strike, a member of the clergy would come to her door to talk. But she would not be permitted to touch any visitors and her phone calls would be limited to ten minutes two times a week.
Article continues below advertisement
The "no contact" rule with the other death row residents might be fortunate for Arias considering her two neighbors would be a woman convicted of killing her husband for insurance money and another who beat a man and his daughter to death in a home invasion.
If appeals ran out and a death warrant were signed by the governor, Arias would be driven to the state prison in Florence, where the lethal injection room is housed. It's two miles away from the prison where the 117 men are held on death row.
Arias would have an audience when she dies, including up to five relatives or friends that she could invite. The prison chief is required to invite "at least 12 reputable citizens" to witness the execution. They would watch through a large window as Arias is strapped onto the table.
Arias, who would likely be in her 50s and perhaps without the youthful spunk she's shown during her trials, would have a chance to give a short speech before a deadly cocktail of drugs is pumped into her veins.
Of the 100 people put to death by the state of Arizona in the past 115 years, Eva Dugan is the only woman. She was hanged at the Florence prison in 1930 for killing an elderly chicken farmer. Her last words: "Well, I'll die with my boots on and in full health. And that's more than most of you old coots will be able to boast on."