Ex Jimmy Fallon Stage Manager Says He Was Subject To 'Witch Hunt' After Complaining About Discrimination Demotion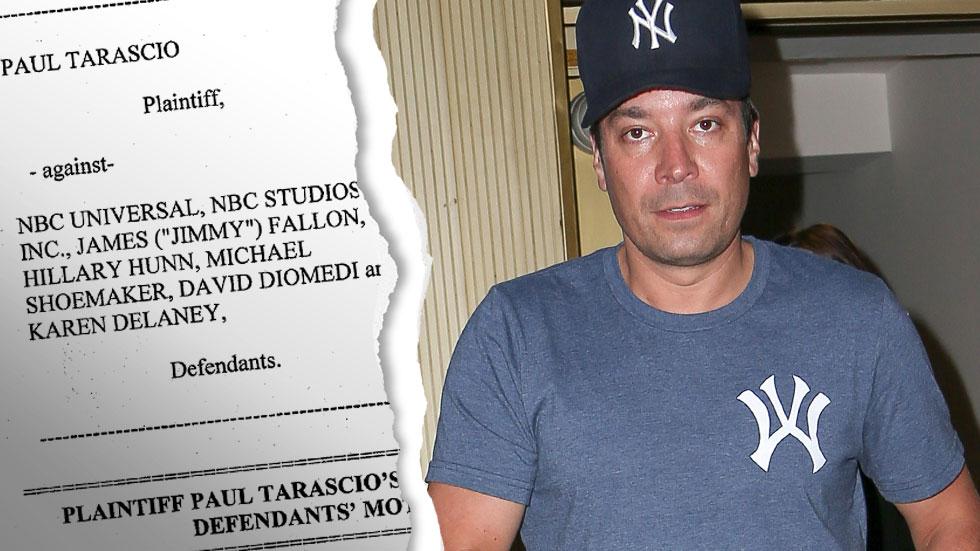 Jimmy Fallon was "more comfortable taking directions from a woman," his ex-stage manager said in legal docs in his ongoing discrimination case against the NBC host.
As RadarOnline.com previously reported, former Late Night with Jimmy Fallon stage manager Paul Tarascio initially sued the comic in New York in 2010 for punitive damages and lost wages, claiming he'd been let go from the NBC chat-fest because of Fallon's preference to surround himself with women.
Article continues below advertisement
Fallon's lawyers responded earlier this year, saying that the case should be dismissed because Tarascio was a substandard employee, with the final blow being an on-wire miscue during the comic's Mar. 8, 2010, telecast, in which he didn't send guest Chris Parnell to the stage in timely fashion.
Now, in a new twist in the ongoing legal affair, Tarascio said in a Feb. 27 filing that the Parnell incident was a flashpoint in a conspiracy among the show's higher-ups to can him and have him replaced with a woman.
Read the documents on RadarOnline.com
Tarascio said that when he initially spoke with the higher-ups that the host's preference to work with women -- after he was demoted from front stage manager to backstage manager -- he responded in saying that such a practice was discriminatory, and was told to not to rock the boat on the issue or face termination. This triggered the conspiracy against him, resulting in a back-and-forth of complaints about his job performance, meetings and trips to human resources.
He said that in the specific incident that got him canned, the director ignored his plea to stall the segment, which caused the Parnell stage flub. Since the show was not airing live, the mistake could have been edited out, or re-shot, but it was kept as is to use as evidence in their "witch hunt" against him, Tarascio said.
Tarascio said that he was successful in the same position working for Conan O'Brien for 13 years, which was how he got his foot in the door with Fallon, and that the notion that his performance was lacking is an attempt to distract from the issue at hand.