Exclusive
Liar, Liar? 'Fashion Police' Writers Slam Giuliana Rancic's Excuse For Racist Zendaya Comment — No One Wrote Jokes For Her!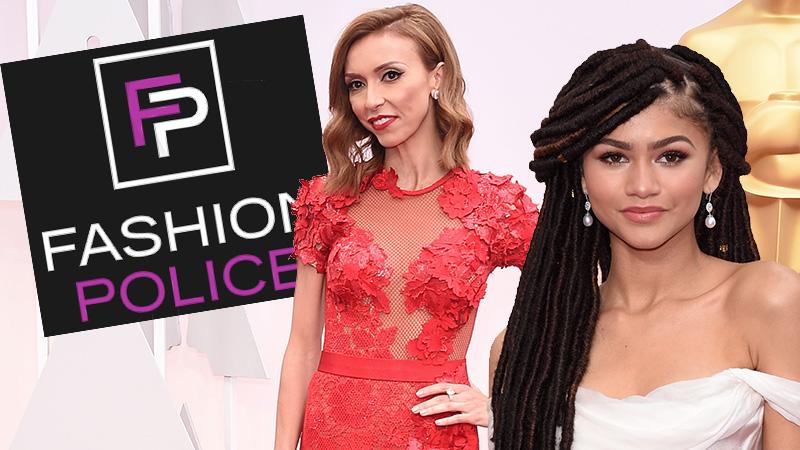 Giuliana Rancic claimed Thursday that she wasn't to blame for her comment about Zendaya Coleman's hair — because, she said, Fashion Police writers wrote it. But that excuse rings hollow with the striking writers from Fashion Police, who spoke out exclusively to RadarOnline.com to slam her attempt to shirk responsibility for the off-color joke, and give the latest update on their legal battle with the show.
Article continues below advertisement
Eight Fashion Police writers have been on strike for almost two years after filing a claim with the California Division of Labor Standards Enforcement alleging that they were not fairly paid for the hours they worked on the show. Two of them spoke to RadarOnline.com — and revealed that when they were on staff, they never wrote jokes for Rancic.
"When I was writing for the show, the only writers on staff wrote for Joan Rivers," Eliza Skinner told RadarOnline.com. "… Joan was the only one who made jokes or was expected to be funny. If Giuliana had any joke writers then, it was off staff and on her own."
Since all jokes were written for Rivers, Skinner told RadarOnline.com that she had no interaction with Rancic while writing for Fashion Police, but she took umbrage with her late-to-the-game excuse.
"The fact that Giuliana blames writers on a show that SUPPOSEDLY has none, and needs none, and has made a big deal about it publicly is very strange," she insisted.
Bryan Cook, another former writer told RadarOnline.com that staffers often wrote off-color jokes for Rivers during their tenure — but not Rancic.
Article continues below advertisement
"Have you listened to Joan? Nothing was off limits for her. That was her schtick. She was offensive, racist, and rude, you name it. There wasn't a line Joan wouldn't cross in comedy," Cook said.
"I never even met Giuliana and no one wrote jokes for her. But things might have changed since Joan died but when she was alive Joan wanted to be the funny one. Giuliana might say things about clothes or fashion but Joan was the only one cracking jokes," he said.
Skinner told RadarOnline.com that the situation may have changed since she went on strike in April 2013.
"I know nothing about the way the show works currently or if there are any writers working for the show. They certainly aren't crediting any, because the show is engaged in a two-year-long unresolved strike with the WGA. So technically, there should be no writers and if anyone is doing it they are doings secretly, as a scab. … Any writers are crossing the picket line."
Article continues below advertisement
Thursday Rancic insisted the controversial comments she made about Disney actress Coleman's hair were scripted.
"Giuliana Rancic's comments about Zendaya's dreadlocks might have seemed off the cuff, but Access Hollywood has learned otherwise," a press release from Access Hollywood claimed. "Host Billy Bush spoke directly to Giuliana Rancic this morning and has learned that her comments that the 18-year-old's dreadlocks looked like they smelled like 'patchouli' and 'maybe weed,' were penned by a Fashion Police show writer, and not something Giuliana came up with on her own."
Who do you believe? Let us know in the comments!