Gigi Hadid Slams Rumors Claiming She Snorted Cocaine At VS Spring Break Event: 'I Would Never Touch That'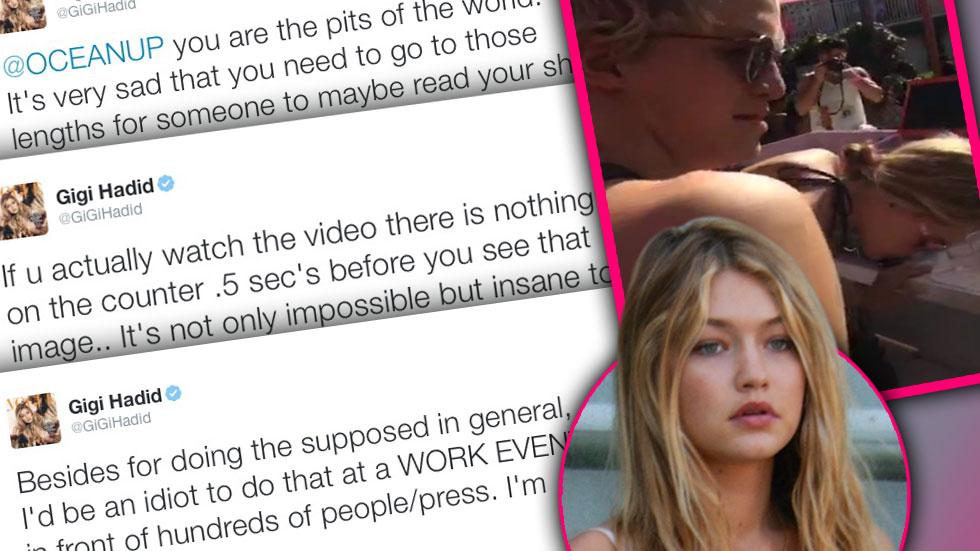 Gigi Hadid speaks out against rumors that she snorted cocaine during a Victoria's Secret spring break event.
After hosting Victoria's Secret Pink Spring Break in Miami with boyfriend Cody Simpson, the 19-year-old was accused of snorting cocaine in a video that surfaced from a Snapchat user attending the same event.
But the supermodel assured her fans that the claim was utterly false, taking to Twitter to express her disgust:
Article continues below advertisement
"@OCEANUP you are the pits of the world. It's very sad that you need to go to those lengths for someone to maybe read your s--t blog. If u actually watch the video there is nothing on the counter .5 sec's before you see that image...It's not only impossible but insane to me."
As a budding young model, Hadid also reminded her fans that she'd never jeopardize her career: "Besides for doing the supposed in general, I'd be an idiot to do that at a WORK EVENT in front of hundreds of people/press," she explained. "I'm insulted."
Her resume now includes modeling for brands as famous as Maybelline and Tom Ford, and as a figure for teenagers to follow, Hadid made it a point to speak out publicly to her fans.​
"I take pride in being a good role model," she added on Twitter. "Would never touch that, & will not stand for or put up with a little piece of scum blog like OU."
Ouch!
Watch Video On RadarOnline.com
​
Do you think Gigi Hadid snorted cocaine? Let us know in the comments below!