Honeymoon Over! Amal 'Freaks Out' On George Clooney Over Scarlett Johansson 'Flirting' -- 'Could Be Last Straw'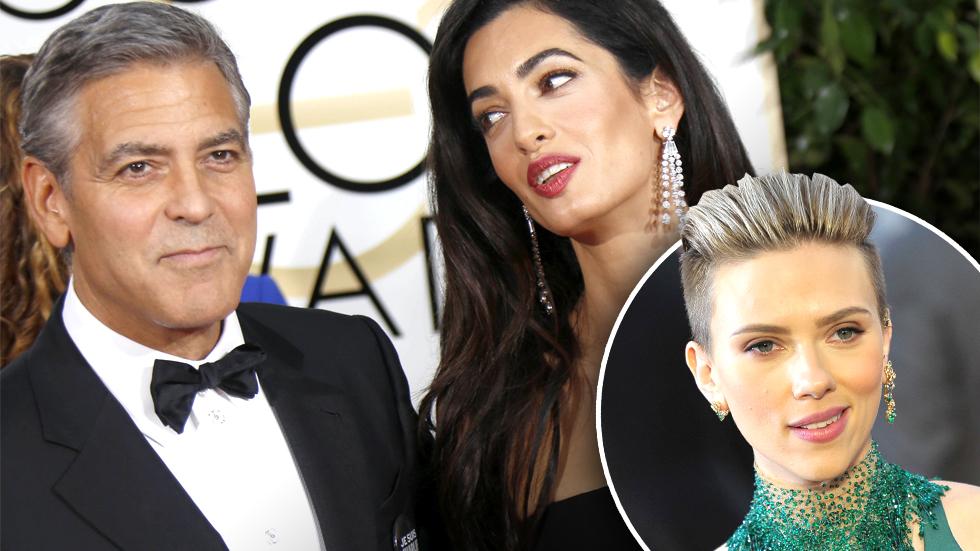 George Clooney is now a married man, but sources tell The National ENQUIRER that he could be on track to regain his bachelor status following a series of fights with his newlywed wife, Amal.
According to The ENQUIRER, "Amal freaked out when her new hubby ditched her on her Feb. 3 birthday to spend the day with Scarlett Johansson on the set of Hail, Ceasar!," in which both stars are playing leading roles.
Article continues below advertisement
"Amal and George had a huge screaming match over that," the insider told the magazine. "She ignored all of his calls and texts, and wouldn't talk to him for days. Amal warned George that she won't tolerate being disrespected like that."
"While Amal is an accomplished international lawyer, she's no movie star – and someone as gorgeous as Scarlett gets under Amal's skin. George says there's nothing more than a movie friendship on the set, but Amal's seeing red!"
MORE ON:
Scarlett Johansson
Even though Johansson is also a married to French journalist Romain Dauriac, and has a baby daughter, "It doesn't matter to Amal," the source claimed.
"She has heard that George lavished attention on Scarlett on set, and that he flirts with her as if he's still a single man."
The ENQUIRER also says that things got so heated between both sets of newlyweds, George had the chance to make it up to Amal on Valentine's Day. "But instead of giving her an over-the-top romantic dinner on their first V-day as a man and wife, he included five other friends," according to the source.
Needless to say, "it was not the romantic night Amal had envisioned," and, according to another insider, "This could be the last straw."
For more on why they might not make it to their first anniversary, pick up the latest issue of The ENQUIRER!