Post-Verdict Tears! Exonerated Amanda Knox Declares Butchered 'Meredith Was My Friend'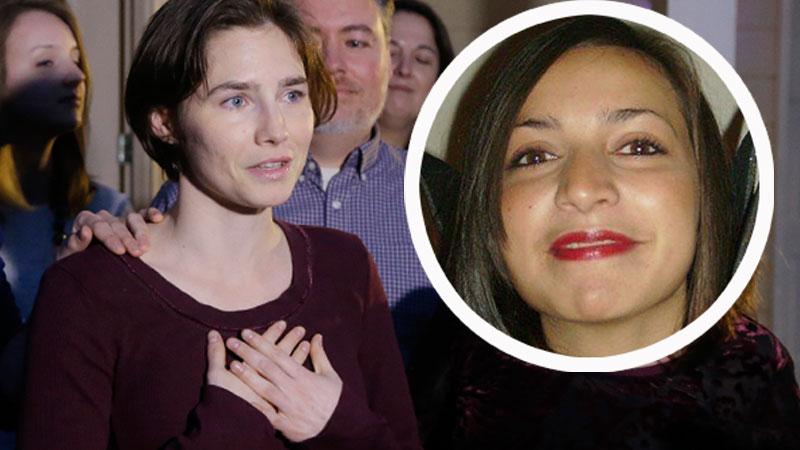 Amanda Knox tearfully remembered former roommate Meredith Kercher in an emotional statement to the world just hours after she was cleared of murdering her.
Appearing in front of the media outside her mother's home, Knox said, "Meredith was my friend and she deserved so much in this life. I am the lucky one."
For more than seven years, Seattle native Knox lived a nightmare after she was accused and then found guilty of murdering British exchange student Kercher in Italy. But the long agony ended Friday when Italy's Supreme Court found both Knox and her one-time boyfriend Raffaele Sollecito innocent of the crime. And as RadarOnline.com reported on Friday, there's no more chance of appeal—the ruling is final.
Article continues below advertisement
After getting the news, 27-year-old Knox (surrounded by her father, mother, sister, and fiancé, Colin Sutherland ) broke down in tears as she made her statement.
She said, "I'm incredibly grateful for what has happened, for the justice I have received, for the support I have had from everyone, from my family and my friends to strangers."
Then Knox emotionally put her hands to her chest and said as family and friends looked on, "You have saved my life and I'm so grateful to have my life back. Thank you and that's all I can say. Right now I'm still absorbing what all of this means and what comes to mind is my gratitude for the life that has been given to me.
"I'm still absorbing the present moment which is full of joy."
A reporter asked Knox whom she believes killed Kercher, 21, and she commented, "I really can't do that right now," and walked back into her mom Edda Mellas' house.
Mellas said, "We're so grateful that everything is finally right."
Earlier, Knox's relatives had literally danced in the street as they celebrated the verdict.
But Kercher's mother Arline expressed shock that Knox and Sollecito were exonerated, saying, "I am a bit surprised, and very shocked if I'm honest.
"They have been convicted twice so it's a bit odd that it should change now."
Meanwhile, could a wedding be next soon for Amanda, who was dubbed "Foxy Knoxy" by the press?
This year, Knox got engaged to musician Sutherland, a longtime friend who wrote to her while she was incarcerated in Italy.