Dominatrix Claims She Had Racy Romp With Michael Phelps—Swimmer Wore 'Skimpy Women's Underwear'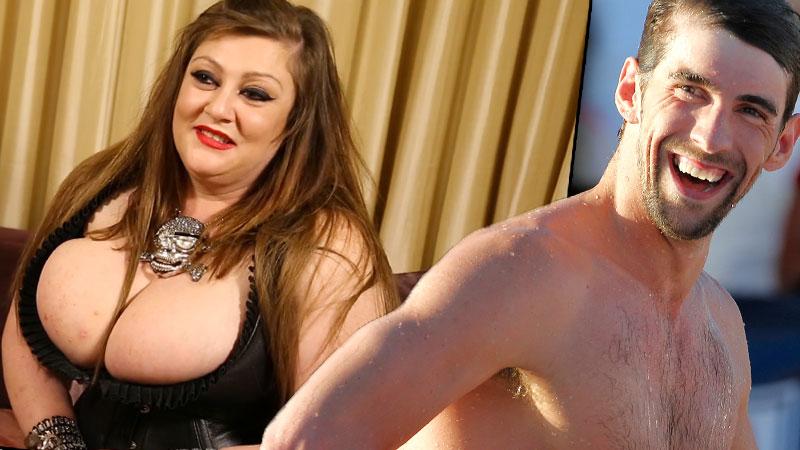 Olympic champ Michael Phelps has gone from scoring gold medals to recieving kinky "golden showers," a professional dominatrix claims in a jaw-dropping world exclusive interview.
Bad girl Kim Petro, 36, is exposing all the sordid details about her perverted S&M session with the 29-year-old superstar, who announced his engagement to former Miss California Nicole Johnson last month.
"When he said drink some water before I get to the hotel, I knew what I was in for," the fetish instructor dished to The National ENQUIRER in the ultimate kiss-and-tell interview. "I was going to go to the bathroom anyway — I figured I might as well get paid for it!"
Article continues below advertisement
Petro, who passed a polygraph test to substantiate her wild and wacky claims, said Phelps paid a $900 "donation" for their hookup at Manhattan's luxury hotel The London in Feb. 2013.
She said the swimming champ responded to her ad posted online that teased: "All-natural, super busty fetish provider with all the right curves in all the right places. Time with me is time well spent. Nothing shocks me. Don't be shy."
Petro said Phelps made his first contact via a cellphone number that The ENQUIRER independently verified as belonging to the Olympic legend.
Phelps identified himself as "Fabian Marasciullo," using the name of a Miami music figure associated with the swimming star's rapper friend, Lil' Wayne.
Still, Petro instantly recognized her celebrity client, and within the blink of an eye, a randy Phelps shed his T-shirt.
Article continues below advertisement
"He was definitely impressed with his body and showing off," said Petro, adding that the pair smoked marijuana before Phelps dropped his gym shorts.
To Petro's surprise, though, Phelps wasn't wearing boxers or briefs — but had on skimpy women's underwear!
"I got above him on the bed to do the 'golden shower,'" said Petro, referring to the sexual fetish where one person urinates on another.
"After I was done, he asked if it was okay to pleasure himself," she said. "Of course, I'm going to bend the rules a little for a famous Olympian, so he pulled down his panties."
But Petro was in for another surprise: Phelps had a string tied around his private parts!
"I grabbed the string and pulled, and I also took out my breasts because he wanted to see them," she said.
As RadarOnline.com reported, this isn't Phelps first time getting ratted on for enjoying some kinky pastimes. Taylor Lianne Chandler, who was born with both male and female genitalia and lived as a man until her late teens, says she and Phelps engaged in a sex-fueled fling before he checked into rehab last October.
"The intimacy with him was amazing!" she told Radar. "It was the first time in my life that someone has made me feel like a true woman."
For more on this story, pick up the latest issue of The National ENQUIRER, on newsstands now.