Exclusive
Evading Justice? Brooke Mueller 'Avoiding' Court Date In 'Drug Mule' Lawsuit, Attorney Claims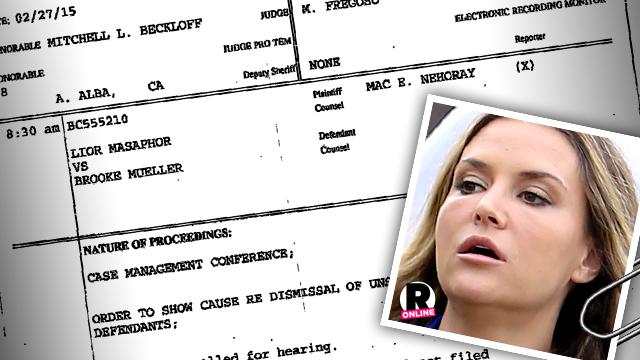 Did Brooke Mueller force her assistant to be her drug mule? RadarOnline.com has learned that an attorney for Mueller's former PA, Lior Masaphor, says she's trying to avoid answering that question in court, since she is allegedly avoiding being served in Masaphor's lawsuit.
Masaphor sued Mueller last August, but at a status conference in the case, earlier this month, it was revealed that Mueller still hasn't been served with the initial complaint.
Article continues below advertisement
Mac Nehoray, the lawyer representing Masaphor, told Radar, "Brooke Mueller is evading service and we are trying to get an order for publication. She lives in a gated community, and they keep saying she is not there or she is out of the country. Her attorney is not accepting service on her behalf."
Under California law, a defendant can also be served with a lawsuit if it's published in a local newspaper. Judge Mitchell Beckloff ruled at the status conference that the request for service by publication shall be submitted by March 13, and there was a hearing scheduled for April 29.
According to the complaint, Masaphor worked more than 130 hours a week for for Mueller, and was forced to "engage in repetitive illegal and unsavory actions at the specific instance and request of Brooke Mueller. These reprehensible acts in addition to those set forth, included forcing Plaintiff to act as a drug mule, forcing Plaintiff to transport illegal drugs for defendant, forcing Plaintiff to watch over Defendants sic children in order that Defendants could get so high as to be literally wasted and or engage in multiple sex acts with third persons literally under the nose of and in the actual presence of Plaintiff and Defendants children."
Masaphor worked for Charlie Sheen's ex-wife and baby mama, from 2012 to 2013, and also alleges that despite what he calls a hostile work environment, he was only paid a paltry $2400 a month: Based on "simple arithmetic he was effectively getting paid $4.47 per hour (125 hours a week)," the documents state.
"Mueller requiring Masaphor to engage in illegal and or dangerous activities as 'part of his job' created an irreconcilable and irrevocable hostile work environment. Masaphor was constructively terminated from his employment as a result thereof," the papers state.