Exclusive
Explosive Lawsuit: Brooke Mueller's Former Assistant Claims In Court Docs That He Was Forced To Be A 'Drug Mule,' Watch Threesomes & Worse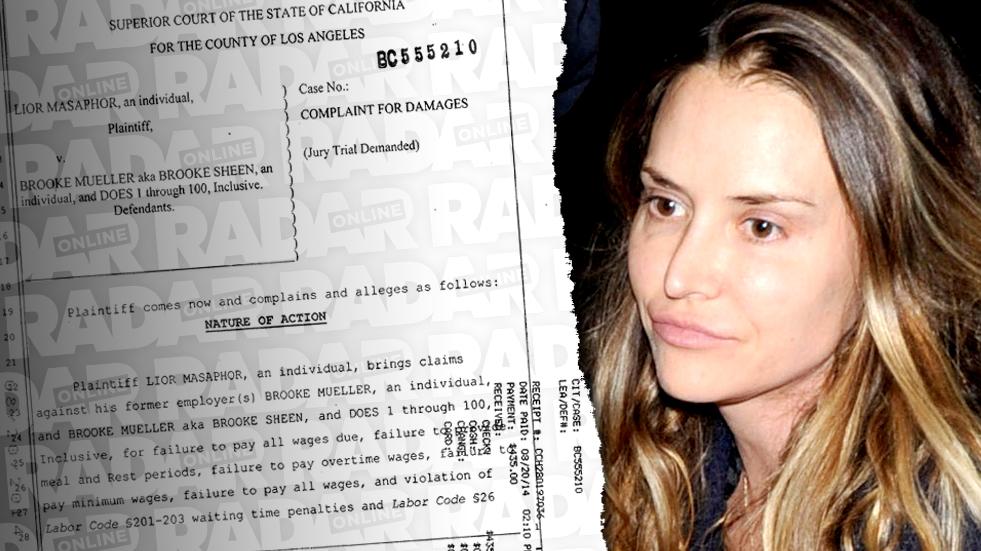 Brooke Mueller is being sued by former personal assistant, Lior Masaphor, RadarOnline.com has exclusively learned, and among the explosive claims are that he was forced "to transport illegal drugs," and watch Charlie Sheen's ex-wife and baby mama "engage in multiple sex acts with third persons."
According to the court documents obtained by Radar, Masaphor worked over 130 hours a week for for Mueller, and was forced to "engage in repetitive illegal and unsavory actions at the specific instance and request of Brooke Mueller. These reprehensible acts in addition to those set forth, included forcing Plaintiff to act as a drug mule, forcing Plaintiff to transport illegal drugs for defendants, forcing Plaintiff to watch over Defendants children in order that Defendants could get so high as to be literally wasted and or engage in multiple sex acts with third persons literally under the nose of and in the actual presence of Plaintiff and Defendants children."
Article continues below advertisement
Masaphor worked for Mueller from 2012 to 2013, and also alleges that despite what he calls a hostile work environment, he was only paid a paltry $2400 a month: Based on "simple arithmetic he was effectively getting paid $4.47 per hour (125 hours a week)," the documents state.
"Mueller requiring Masaphor to engage in illegal and or dangerous activities as "part of his job" created irreconcilable and irrevocable hostile work environment. Masaphor was constructively terminated from his employment as a result thereof," the papers state.
In 2013, Mueller was stripped of custody of twin sons, Bob and Max, 5, after overdosing on crystal meth and being placed on a involuntary psychiatric hold.
In a stunning development, Mueller became chummy with her former husband, Charlie Sheen, and he actually gave his approval for the reality star to regain custody of their twins.
The rehabbing socialite has also become very chummy with Sheen's porn star fiancée, Brett Rossi, and has even joked that she "prefers women over men" — a reference to Rossi's girl-on-girl adult acting and "has even joked that Charlie is an amateur compared to her, and she would 'pinch hit' for Charlie with Brett in a second if she got the chance," a source previously said. "Brooke loves the current environment of Rossi's support and the bond all of them are creating, while she resides in a house Charlie bought her just down the street."
The lawsuit against Mueller seeks unspecified damages, a jury trial, and attorney's fees.
Story developing.