'I Couldn't Breathe!' Bethenny Frankel Reveals Dark Secrets Of Failed Marriage To Jason Hoppy -- Why It Went Wrong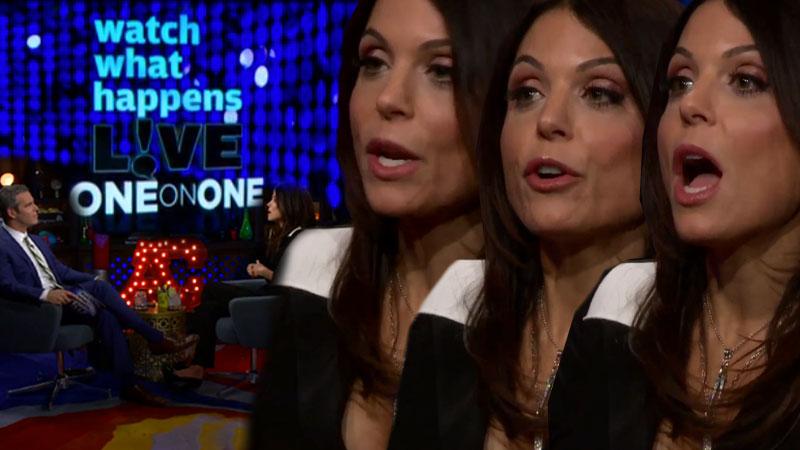 Bethenny Frankel let loose on Sunday's Watch What Happens Live, from her failed marriage and talk show, to her thoughts on imprisoned Bravolebrity Teresa Giudice.
Frankel, promoting her return to the cast of the Real Housewives of New York City, put a positive spin on two painful personal events that occurred since she was last seen on the hit reality show: the bitter breakdown of her marriage to Jason Hoppy, and her ill-fated attempt to get in the talk show game with a chat-fest that was nixed after one low-rated season.
Article continues below advertisement
"I don't really view them as failures," the sexy socialite told Andy Cohen, "but I don't view them as successes.
"Don't get it twisted: I think of them as experiences and I really can't compare the two. They're very different experiences. We have to talk about them separately."
Frankel admitted to Cohen that she "didn't enjoy being a talk show host," as "there was no joy there.
"I think if you don't love what you do, you're not going to be good at it," she said of the ill-fated venture. "I felt like I couldn't breathe."
She said she's grown as a person following her split with Hoppy, who she's been in a long custody battle with over their 4-year-old daughter, Bryn.
The confident reality star explained: "I don't believe in regret: I am right where am I am because of all my experiences.
In the go-between, the successful businesswoman said that the "breadwinner" dynamic ruined things between her and Hoppy.
"I think fame, attention, and money does not bring out the best in everybody," she said. "I think that money, in many ways, is the root of all evil."
Article continues below advertisement
"I've been through some pretty negative stuff, and what doesn't kill you makes you stronger," she said, admitting she "wouldn't have been able to do the show a year and a half ago," as it would "have not been enjoyable for many."
The Skinnygirl mogul took the high road in talking about her current situation with Hoppy, saying, "I don't want to come in here and start trashing the situation -- it's not good for anyone and it doesn't help anyone.
"My daughter's the most important one ... I made an important decision to really just not dive in the mud."
She did touch on the awkward arrangement, as she and Hoppy share the same New York City apartment until the courts decide upon things.
"I don't know where I live ... I live in a lot of different places," the Big Apple beauty told Cohen. "You'll have to watch the show to see where I live. I may be sleeping here in your office tonight!"
Article continues below advertisement
As RadarOnline.com previously reported, Frankel boldly said she "" in the appearance, comparing the ties that bind to a verse from the Eagles' classic "Hotel California."
"You can check out anytime, but you can never leave," she said, later adding that she's currently single with no major prospects on the horizon.
"I'm not dating now ... I mean I've been ... I wish that my dating life were as colorful and exciting as it's written about, but right now I'm kind of at a standstill. I've dated this year. I've had a lot of different experiences, but I have a daughter and I am still married."
And as for Guidice, Frankel admitted that there were "contentious" feelings between her and her Bravo neighbor across the Hudson river after she exchanged barbs with the now-imprisoned reality star. Despite the past bad blood, she feels very sorry for the mother-of-four after being separated from her kids.
"I can't even think of something worse, I really can't," Frankel said.
She said that if the fraud charges Teresa and her husband Joe were convicted of were true, it's "amazing" they "would go on reality television with skeletons in the closet" as such.
"Whether it's someone who's having an affair, or someone who's bankrupt, or anything ... it's almost like someone who has something that they don't want anyone to know, they put a camera in front of them.
"It's weird."
Viewers can see more of Frankel when the Real Housewives of New York returns to Bravo April 7 at 9/8c.
Watch: Bethenny Frankel - I Will Never Get Legally Married Again