Exclusive
Love Locked Up! Teresa & Joe Giudice's Prison Valentine's Day Plans Revealed—'No Flowers Or Chocolates'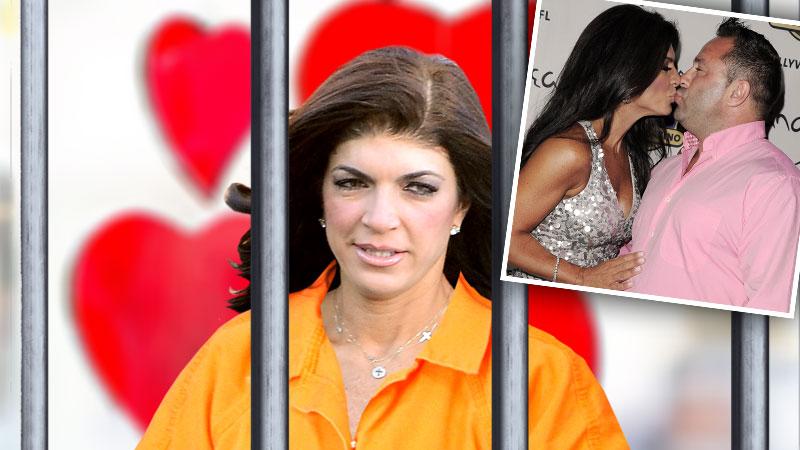 Teresa Giudice is spending Valentine's Day locked behind cold prison bars, and although her loyal husband Joe Giudice may surprise her with a visit, RadarOnline.com has learned the former reality star will definitely not be getting diamonds, fur, or even chocolates this year!
"Teresa will get no special privileges for tomorrow's lovers holiday," says Beatrice Codianni, who served 14 years at the same Danbury, Connecticut, prison as Giudice. "He can kiss her when he arrives and kiss her when he leaves, but there is absolutely no hugging or kissing while he is visiting her tomorrow."
Article continues below advertisement
"Joe will not be able to bring Teresa flowers or chocolates," Codianni tells Radar. "Instead of dinner at a crowded, fancy restaurant, if Teresa is fortunate enough to get a visit she and Joe may share items like cupcakes, candy bars and soda from the vending machine."
"But when you are in prison it is not about the presents or bonbons,' Codianni continues. "It is about seeing a loved one. Knowing that Joe came to see her will make her day very special."
The judge in the couple's fraud case allowed Teresa's 43-year-old husband to serve his 41-month sentence in prison after Giudice is released next year so that he may care for their four daughters Gia, 13, Gabriella, 9, Milania, 8, and Audriana, 5.
Codianni notes that "if he brings her girls tomorrow it will be an extra special treat—it will show her she's not been forgotten."
"But they will be together and that is the important thing," Codianni, who is now the Managing Editor of Reentry Central adds.
"Hopefully they will be able to tune out the guards and other visitors and concentrate on each other and realize that they made it this far."
Do you think that Teresa Giudice will be disappointed with her Valentine's Day or just happy to see her family? Let us know in the comments below.