Exclusive
She Found Love: Rihanna's New Man Leonardo DiCaprio Was 'Her Childhood Crush'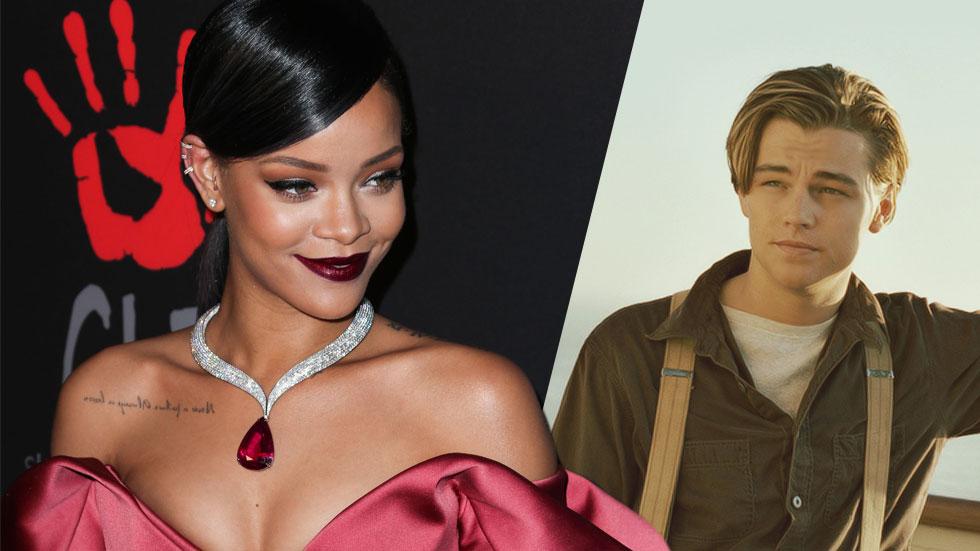 Rihanna and Leonardo DiCaprio's romance is and, according to a friend of the "Diamonds" singer, she's has had a thing for the movie star for quite some time.
"Rihanna said that Leonardo is her childhood crush," a source close to the singer tells RadarOnline.com exclusively. "She said that she's wanted him since she was a teenager."
"She is actually really, really into him," the friend adds.
Rihanna, 27, and DiCaprio, 40, are no strangers to having flings, as DiCaprio has hopped from model to model over the course of the last decade, while Rihanna has been involved in on-again, off-again relationships with bad-boy rapper, Chris Brown, Drake and others.
Article continues below advertisement
But this time it seems like a real connection — at least physically. According to the friend, the couple were "all over each other" this past weekend at a birthday bash for Rihanna that was held at a private estate in the Hollywood Hills.
"Rihanna and Leo were making out at the party and did not care who was looking," the insider tells Radar. "They appeared to be very much a couple and he was going to great lengths to make sure that everyone there knew she was with him."
As for her notorious ex, when Brown, 25, got word that his ex-girlfriend was getting hot and heavy with DiCaprio, he told Hot 97, "I'm gonna have to give her that, because you know what? Ain't nowhere else you coulda went though. High five."
"You can only go up, and that's the upper, upper echelon…" he said. "I'm not even a hater. I'll give you a slap on the back, booty, everything, 'Hey, do your thing. Good game.'In that situation, I just tip my hat. I'm not a hater. I'm not envious, I don't feel jealous. Do your thing. I can't have it all, brotha."
Do you think that Rihanna and Leonardo DiCaprio make a good couple? Let us know your thoughts in the comments below.