Oscars Moments: Alejandro Inarritu and Patricia Arquette's Speeches, John Travolta's Busy Night & More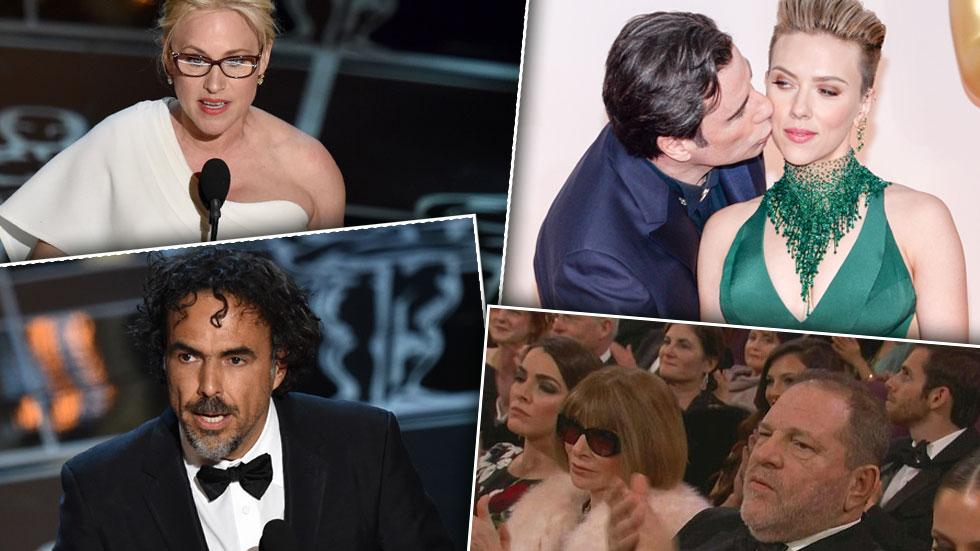 Moving speeches from Alejandro Inarritu and Patricia Arquette, and Anna Wintour's were among the watercooler-worthy moments from Sunday's Oscars.
'Birdman' Director Calls For Immigration Reform
Alejandro Inarritu, the Mexico-born director of the night's best picture winner, The Birdman, urged Mexico's people to "find and build a government that we deserve" in one of his acceptance speeches Sunday. He said of Mexico natives living is the U.S.: "I just pray they can be treated with the same dignity and respect of the ones that came before and built this incredible, immigrant nation.'' The socially-charged speech from Iñárritu led to a surge of social media activity, with his name and #VivaMexico trending after the speech. Later, Iñárritu doused a potential controversy -- after presenter Sean Penn joked, "Who gave this son of a bitch his green card?" -- explaining that he and Penn are longtime friends, adding that he "found the remark hilarious." Inarritu, director of Penn's 2003 film 21 Grams, told reporters, "I make on him a lot of very tough jokes that I will not tell you."
Article continues below advertisement
Watch the video on RadarOnline.com
Standing O
Best supporting actress Patricia Arquette also used the forum to make a plea for equal pay between genders, saying, "To every woman who gave birth, to every taxpayer and citizen of this nation, we have fought for everybody else's rights: it's our time to have wage equality once and for all and equal rights for women in the United States of America." The Boyhood star's impassioned message received a standing ovation from Meryl Streep, who told reporters that the social statement "made her night."
Watch the video on RadarOnline.com
https://vine.co/v/OQH1MKLUeUa/embed
The Devil Wears Sunglasses?
Vogue editrix Anna Wintour wore her signature sunglasses at the indoors show at Los Angeles' Dolby Theatre Sunday. Wintour, who was seated next to daughter Bee Shaffer, Hollywood powerhouse Harvey Weinstein and his wife Georgina Chapman, got plenty of social media attention for her fashion statement. Wintour, who wore a fur shrug and gown to the premiere event of the show biz year, was thankfully not seated near any crying children during the proceedings.
Article continues below advertisement
Busy Night
John Travolta had a few memorable moments at Sunday's proceedings, sneaking in a kiss on actress Scarlett Johansson as she posed on the red carpet prior to the event. The actress, Travolta's co-star in 2004's A Love Song for Bobby Long, had a reaction reflecting the unexpected awkwardness after the surprise smooch from the married actor. Also Sunday, Travolta paid some penance for his faux pas during last year's event when he famously botched singer Idina Menzel's name, calling her "Adele Dazeem." The show's host Neil Patrick Harris joked of actor Benedict Cumberbatch: "It's not only the most awesome name in show business, it's also the sound you get when you ask John Travolta to pronounce Ben Affleck." When Menzel hit the stage, she introduced Travolta as her "very dear friend Glom Gazinga," to which he said, "I deserved that ... my beautiful, my wickedly talented Idina Menzel."
Watch the video on RadarOnline.com