Exclusive
Baby Surprise! NeNe Leakes Has A Secret Grandchild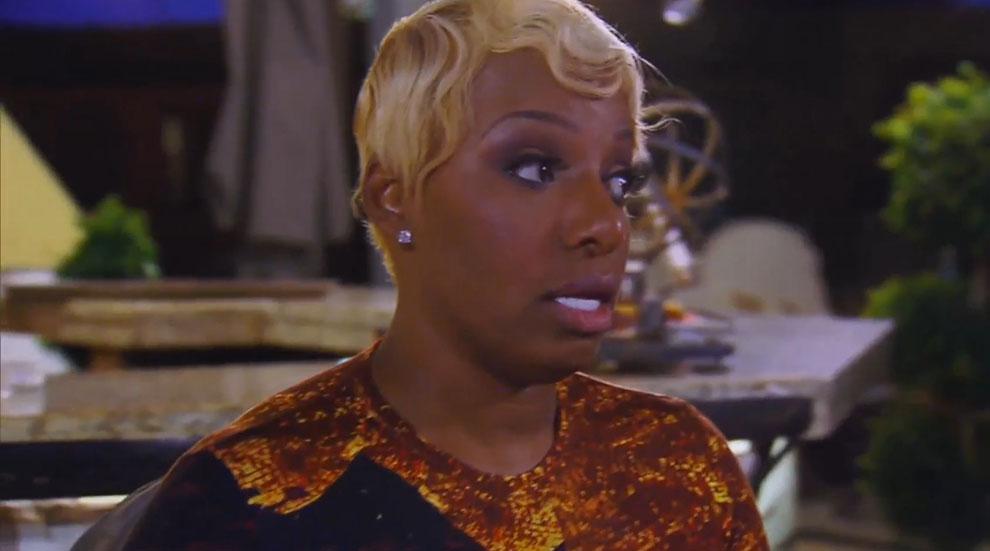 NeNe Leakes' son has a lot more to worry about than his run-ins with the law. Bryson Bryant's frequent legal issues have resulted in fines and jail time, and now, his ex-girlfriend claims, he's also been shirking his fatherly duties to his infant daughter. According to the woman, Leakes hasn't exactly stepped up either!
"It's just a sad situation," Bryant's ex Marina Robinson told Radar.
Leakes publicly announced she was a grandmother for the first time in 2012 after Bryant and his current girlfriend Ashley Hill had their first child, Bri'asia. But little did fans know that the reality star has another grandchild, who she's allegedly never even met.
Article continues below advertisement
Robinson claims she and Bryant starting dating after meeting at an Atlanta club in 2012 and in early 2013, she got pregnant. After that, things went downhill.
"I would go back and fourth from Mobile, Alabama to Atlanta, Georgia in between my doctor appointments, but he wasn't there for her birth," in October 2013, she claimed. "And NeNe didn't know I was pregnant. He Bryson didn't want me to tell her."
But the 47-year-old reality star found out the shocking news when her eldest son was charged with a DUI after totaling his car in June 2013, and Robinson and the Real Housewives of Atlanta star met at the hospital.
"I immediately went down there and I was six months pregnant, and she knew," said Robinson.
But the Real Housewives of Atlanta diva's bedside manner was less than warm, according to Robinson.
Article continues below advertisement
"Then when I get to Atlanta she said only family could visit him. It was uncomfortable for me. She had attitude, she tried to disrespect me, disown me," she added. "She was pretty much like 'you're not part of the family.' There was a lot of shade being thrown."
But Bria isn't the only little mouth to feed in the expanding Bryant family.
Since Bryant had his first daughter nearly three years ago, Robinson says his brood has grown exponentially with two more sons who he shares with his current girlfriend Ashley – Brayden, born in April 2013, and another boy nicknamed Lil Benny, who was born just a couple months ago in November, while the father of four was serving three months behind bars!
"What killed me was … NeNe accepted Brayden and she's helped out with all of them, but she's not helping with Bria," Robinson said.
In fact, to settle any question of paternity, Robinson said she agreed to a DNA test, but Bryant hasn't followed through.
"NeNe wanted a DNA test, but nothing has been done," she said. "I wanted one done, period, so we wouldn't go through it again. But they keep pushing it back and not pursuing it."
Article continues below advertisement
So Robinson says she's been waiting patiently for Bryant's frequent broken promises of financial help to come to fruition.
"I've told Bryson what she needs multiple times—clothes, a new car seat, diapers, money and he's not doing it," she claimed. "He said he was going to mail her Christmas gifts and send me money. I'm over it. I'm nowhere near bitter, now it's just he's not understanding. You keep saying you want to see her, but you're not making plans to do it. And won't even buy her a bus ticket! Obviously, you don't want her."
In fact, Bryant has apparently only met his little girl a few times, according to Robinson, with the last meeting occurring in June 2014.
Meanwhile, Leakes continues to be a self-described "glam-ma" to her other grandkids. In a 2012 interview about her first grandchild, Leakes gushed about the lavish gifts she bought for her. "I paid for everything in the nursery: the clothing, the diapers. I don't want her to feel strapped," she said, adding that she bought "little dresses, sparkly headbands, and Gucci shoes" for the newborn.
Article continues below advertisement
But the same generosity hasn't been bestowed upon Robinson.
"I wouldn't even care if she actually made her son help, but when it comes to the point here you're bragging about your grandchild and you have others that you help, there's one more you're not helping," said Robinson. "It's unfair. It hurts. And when my daughter gets older and knows what's going on, it'll hurt her, too.
"NeNe pays for everything -- she's Bryson's caretaker," she continued. "That's why I'm harder on her because she's the one who's taking care of a 26-year-old man who's not taking care of his kids, especially his fourth kid."
"I think it's her responsibility …" Robinson added of Leakes, "if she's going to give him all the money to live off of."
Robinson says she's at her wits' end, especially after reaching out to the Cinderella star personally to no avail.
"I texted her and asked her to call me. But she hasn't called me back," claimed Robinson. "I really feel like she doesn't care. She spoils all of them, but does nothing for Bria."
Article continues below advertisement
And at this point, she plans to leave it all in the hands of the legal system to figure out.
"I plan on going to court for child support," she said. "I'm taking bigger measures to get something done. I didn't want to, but they're backing me up against a wall. I don't know what else to do. I don't want anything from them. I've tried my hardest."
"It hurts me to know they're doing this to my daughter," she said. "I want NeNe to be in Bria's life. I didn't grow up with my grandparents and I don't want that for her."
A rep for Leakes did not respond to Radar's requests for comment. Bryant was unable to be reached for comment.