Exclusive
Not Model Behavior! 'Entitled' Kendall Jenner Bullied AGAIN By New York Fashion Week Models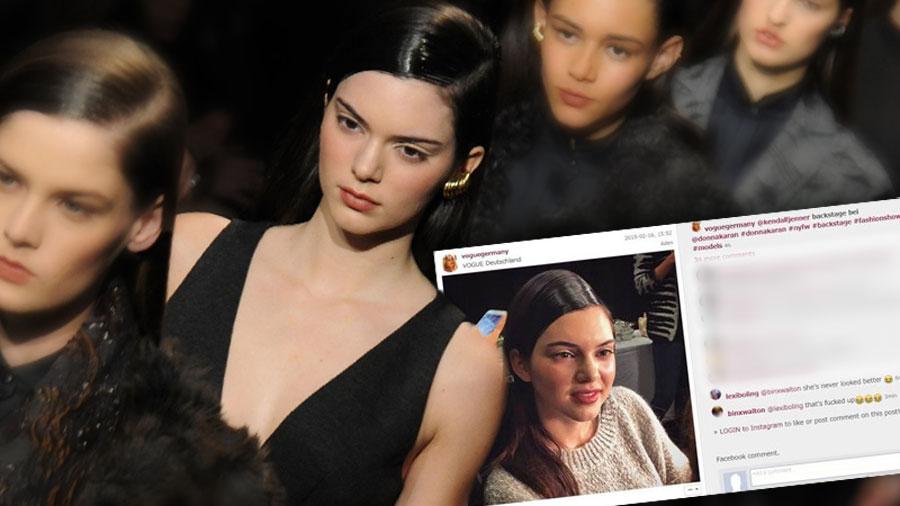 Kendall Jenner is tearing up the runway again at New York Fashion Week. But although it's clear that the world's designers have given her their seal of approval, the 19-year-old reality star and face of Estee Lauder , still hasn't been accepted by her fellow models. After taking shots last year from fashionista mean girls, RadarOnline.com has learned that Jenner is under fire yet again — this time on social media!
Article continues below advertisement
It all started on Monday, when Vogue Germany posted on Instagram a not-so-flattering photo of Jenner in a make-up chair while getting ready for Donna Karan's runway show.
http://instagram.com/p/zLRfdDgESJ/?modal=true
Supermodel and Vogue cover girl Lexi Boling brought the picture to the attention of her pal, Teen Vogue cover star Binx Walton, commenting, "she's never looked better" with the laughing-through-tears emoji. Taking the jab one step further, Walton confirmed that Boling's comment was meant to criticize Jenner and said "that's f--ked up," followed by several laughing emojis of her own.
After both Boling and Walton deleted their comments, Walton took it one-step further on Tuesday when she Tweeted a subtle comment that could be construed as throwing shade, which read: "The season of the entitled."
As RadarOnline.com previously reported, the 19-year-old runway model was reportedly bullied at least year's New York Fashion Week, where she walked in shows for Marc Jacobs, Diane Von Furstenberg and Tommy Hilfiger. Some reports claimed that other models even put cigarette butts in her water bottle.
Article continues below advertisement
Jenner denied the bullying, saying in Dazed magazine's Winter 2014 Issue, "That has never happened, ever. I would see rumors of girls bullying me backstage and putting cigarettes out in my drink, and none of that has happened."
She added that "everyone's been really cool to her" and that she's "never had one girl be mean … so far."
However, a source close to Jenner tells RadarOnline.com exclusively, "Kendall is not phased by any of this anymore. She is secure in her game and is so confident in her abilities this year, that nothing is going to bring her down."
Do you think that Kendall Jenner is deserving of her supermodel status? Let us know in the comments below.