Exclusive
Sobering Influence: Kardashian Sisters Swarm Las Vegas To Babysit Scott Disick At Boozy Weekend Hosting Gig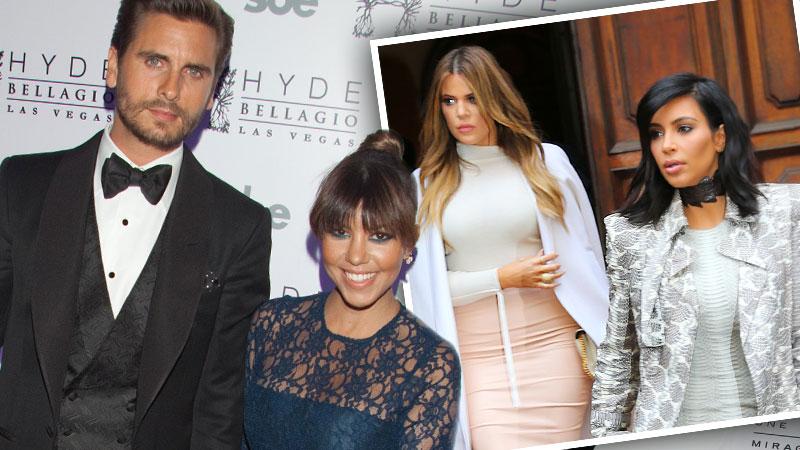 Article continues below advertisement
And though Khloe and Kylie were spotted skiing a few hours outside of Vegas on Thursday, it's expected they'll return for the big event.
"It is believed that they are going to shoot an episode of the show there and all of the girls went with him because they need to help him do a PR cleanup of the mess he made on his last round of club appearances," a Kardashians insider tells RadarOnline.com exclusively.
"Kourtney, Kim and Khloe are not going to allow him to get drunk while they are around and they are saying this trip is a good opportunity for them to come together and iron out their differences."
"They have not been seeing eye-to-eye on anything and there is so much drama going on right now, that Kim and Khloe decided to be supportive sisters for Kourtney and are there to help save her and Scott's family," the source tells RadarOnline.com.
Article continues below advertisement
"Kourtney doesn't always get real with Scott, but Kim and Khloe never hold back and are not afraid to tell him what they think. They have no problem putting him in check."
"Scott always surrenders when the three of them are guarding him." Following Las Vegas, Lord Disick, who is the father of Mason, 5, Penelope, 2 and newborn son Reign with the oldest Kardashian sister, will head to the UK, where he is doing another string of club appearances.
As RadarOnline.com reported, for previous appearances Kourtney hired sobriety spies. But this time she's taking matters into her own hands!