More Duggar Hate Exposed! Josh Endorses Authors Who Slam 'Demonic' Homosexuality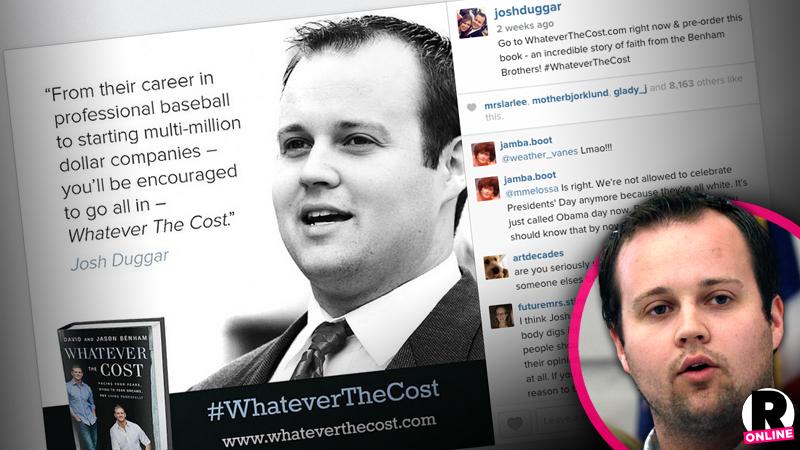 Josh Duggar may claim to love gay people, but he sure has a funny way of showing it.
The 26-year-old anti-LGBT activist recently promoted former MLB players and home improvement experts David and Jason Benham's upcoming Christianity-based book, Whatever The Cost, on his Instagram page.
"An incredible story of faith," the soon-to-be father of four gushed.
But less than a year ago, the brothers came under fire for slamming gay men and women on a conservative radio show.
Article continues below advertisement
"We have a homosexuality and its agenda that is attacking the nation," David told host Jannet Mefferd in September 2012. "…We even have allowed demonic ideologies to take our universities and our public school systems."
http://instagram.com/p/yCwzeUOWEC/
In the wake of the controversial statements, the Benhams' HGTV reality series, Flip It Forward, was canceled before its' October 2014 premiere.
Josh, the eldest son of 19 Kids And Counting parents Jim Bob and Michelle Duggar, has been fighting same-sex marriage for years. In November, the Family Research Council Action executive director proudly led a marriage opposition rally in Arkansas.
"The rally will send a strong reminder to Arkansas Supreme Court Justices that an overwhelming majority of voters, 75 percent, voted to preserve marriage as the union of a man and a woman," he said in a press release before the rally.
Should Josh keep his conservative beliefs to himself? Sound off in the comments.