So Much Hate! Josh Duggar Claims He 'Loves' Gay People— But Must 'Stand Up For What's Right' By Fighting Same-Sex Marriage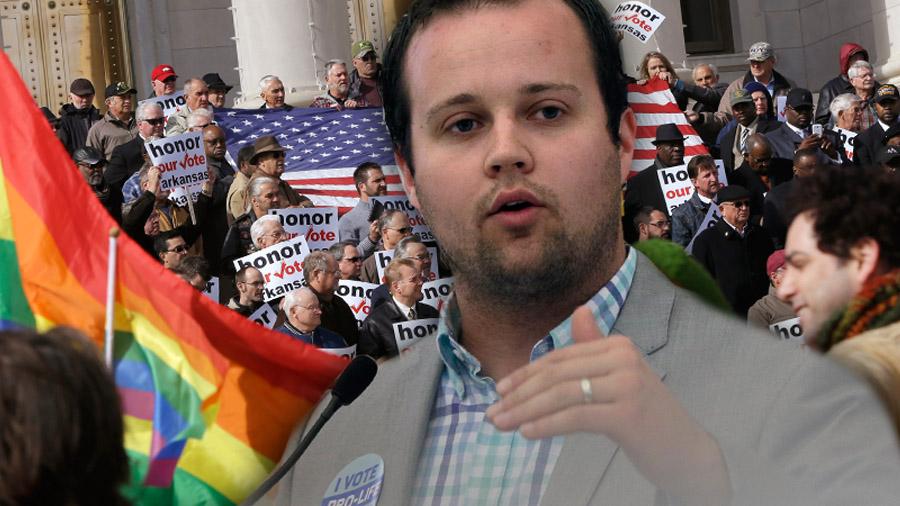 As the executive director of the Family Research Council, a conservative Christian lobbying organization that has been called an anti-gay hate group, Josh Duggar leads the fight against same-sex marriage in Washington, D.C. and around the country.
But he doesn't want to give off the wrong impression. During a recent appearance on the FRC's Washington Watch radio show, the 26-year-old 19 Kids And Counting star claimed to have "love and respect" for homosexuals.
Article continues below advertisement
"I have so many people that I know who are gay," he insisted on December 15. "We have to go out there and show them the kind of love and respect that they deserve as human beings."
That respect, however, doesn't include giving gay men and women the right to exchange vows.
"We also have to stand up for our religious conscience rights," the father of three argued. "And make sure certain people are protected…. We have to stand up and love and say, 'We're going to stand up for what's right.'"
"We still love everyone as Christ commands, we still have compassion, we still have those kinds of feelings, but we also have our convictions. We have our beliefs."
Josh, the eldest of 19 children born to Michelle and Jim Bob Duggar, won't bend these beliefs even when it comes to family.
As RadarOnline.com exclusively reported, Josh's aunt, Evelyn Ruark, identifies as a lesbian.
"I have an aunt who has chosen to live that life and I love my aunt. I think she is an amazing person," he said during a radio show last year— before assuring fans that she also is opposed to gay marriage. "She believes that marriage is between one man and one woman."
Listen to Josh's controversial comments below.