'I Think Chick-Fil-A Will Be In Heaven!': Jill Duggar Gushes Over Grub From Conservative Fast Food Chain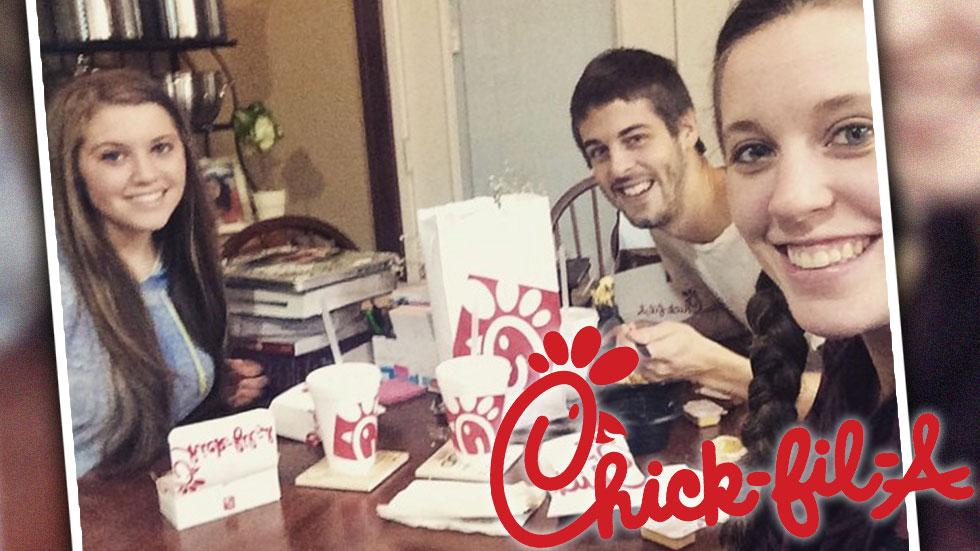 Do the Duggars' conservative beliefs influence their eating habits? Jill and husband Derick Dillard proudly feasted on dinner from the controversial restaurant Chick-Fil-A on Thursday.
The expectant parents, joined by Jill's sister Joy, enjoyed its' cuisine Thursday night, with Jill giving it otherworldly praise, saying "I think Chick-fil-A WILL be in heaven!"
The mom-to-be, who tied the knot last summer in her native Springdale, Ark., continued, "Having a great time with Joy this evening...swimming, then food! Oh yeah! #chickfila #eatmorchikin @chickfila @duggarfam @derickdillard."
Article continues below advertisement
http://instagram.com/p/yvmCWxrs5r/
Of course, Chick-Fil-A's previously-stated anti-Gay marriage beliefs dovetail with the Duggars', as Jill's politico brother Josh has been on the record stating his support for the fast food chain.