'Don't Let Me Die!' David Hasselhoff's Ex-Wife Opens Up About Terrifying Bulldog Attack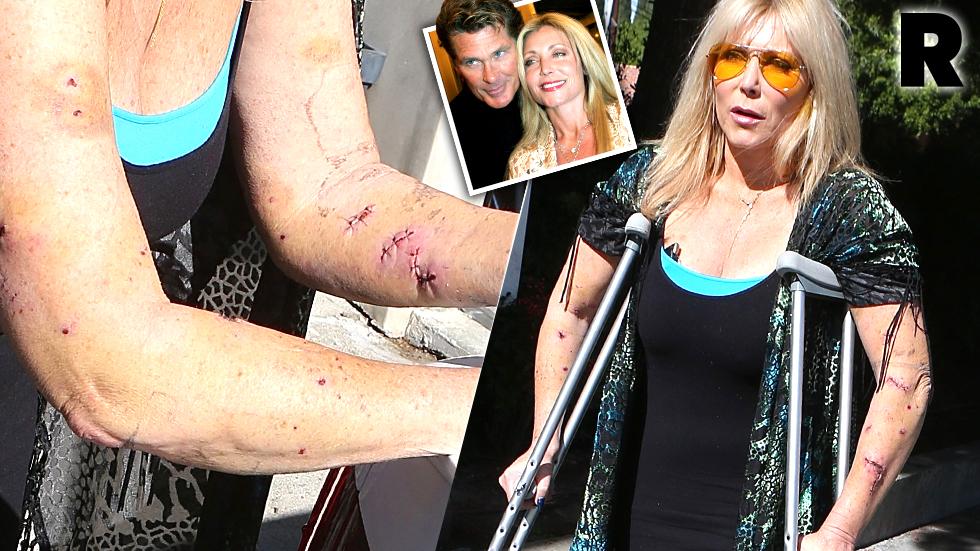 Man's best friend or a dangerous enemy? Just over a week after a terrifying dog attack left her scarred, Pamela Bach-Hasselhoff is opening up exclusively to The National ENQUIRER about the horrifying experience.
"What happened to me is unbelievable. I came within an inch of losing my life, and it's only by the grace of God that I'm alive," the 52-year-old ex-wife of Baywatch star David Hasselhoff told the magazine.
Article continues below advertisement
The incident unfolded when the Bach was visiting the home of her lawyer, Lee Arter.
"His three bulldogs mauled me," Bach claimed. "These dogs locked down on me, and I thought, 'Please don't let me die!' But my instincts kicked in, and I fought for my life."
She claimed that she only survived by stepping on the paw of one of the dogs. "That broke the dog's grip and helped me escape," said Bach, who divorced her Night Rider husband in 2006 after a rocky 17-year marriage.
Bach was rushed to the hospital and treated for her horrific injuries, but tells The ENQUIRER that she did not file a police report and is grateful to be alive.
"I try to keep smiling. I get that from my mom. She said you must always keep your sense of humor," she said.
However, following the incident, she has retained another attorney, Nick Rowley, who told The ENQUIRER, "It's a disgrace what happened to this woman."
For more about the terrifying attack and what she plans to do now, pick up the latest issue of The ENQUIRER, on stands Today!