Exclusive
Bottles & Blows! Brown Family Punched, Spit On Each Other In Wild Brawl — Read The Shocking Police Report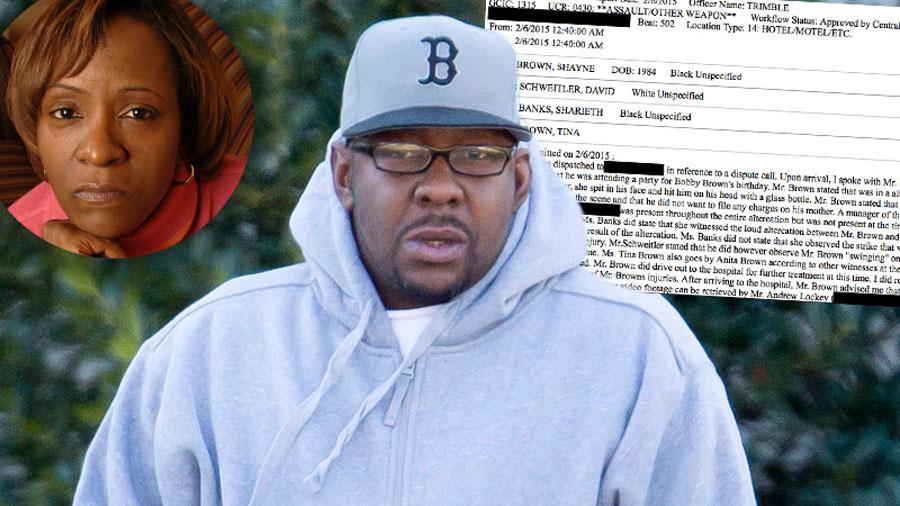 As Bobbi Kristina Brown continues to lie brain dead in an Atlanta hospital, her family is cracking under the pressure. As Radar reported, members of dad Bobby Brown's family got into a nasty brawl after leaving her bedside Thursday, and Radar has the wild details from the shocking police report.
According to the report, an officer was dispatched to the W Atlanta Midtown hotel around 12:40 am on Friday morning, February 6, where Bobbi Kristina's dad was celebrating a somber birthday with family.
Article continues below advertisement
"Upon arrival, I spoke with Bobby's cousin Mr. Shayne Brown, whom appeared to have a laceration to the left side of his forehead," the report states. "Mr. Brown stated that he was attending a party for Bobby Brown's birthday. Mr. Brown stated that was in a altercation with his mother about a valet parking ticket" near the bar area in the hotel.
"Mr. Brown stated that while arguing with his mother, she spit in his face and hit him on his head with a glass bottle," the report claimed, noting that a witness corroborated Shayne's version of the events.
By then, his mom Anita "Tina" Brown had left the scene. Shayne insisted he didn't want to press charges, but he did drive to the hospital, where cops took photos of his injuries.
Bobbi Kristina has been hospitalized since January 31, after she was found face down and unresponsive in her bathtub. As Radar reported, her family has been gathered in a vigil at her bedside.
Story developing.