Cruel Twist Of Fate—Judge Ordered Bobbi Kristina's Arrest Just Three Days Before Her Tragic Bathtub Accident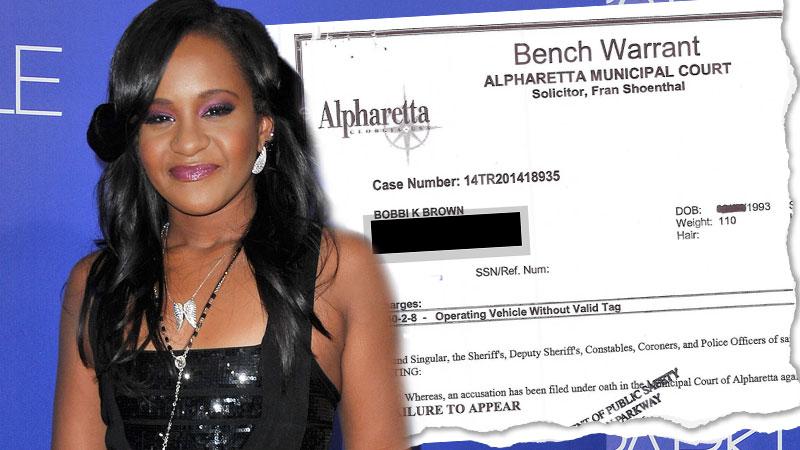 Could getting arrested have saved Bobbi Kristina Brown? RadarOnline.com has learned that a judge ordered that the aspiring singer be locked up just three days before she was rushed to a Georgia hospital and put in a medically induced coma.
"I confirm the Alpharetta Department of Public Safety had an active arrest warrant for Mrs. Bobbi Kristina Brown," Public Information Officer George Gordon tells RadarOnline.com. "The warrant was issued because Ms. Kristina Brown failed to show up for a mandatory court appearance after being cited for operating a motor vehicle with expired tag registration."
Article continues below advertisement
Brown, 21, was stopped on Sept. 9 while driving her Lexus IS250 sports car. Officials demanded she face charges at the Alpharetta Municipal Court for the minor offense on Jan. 14.
"The warrant was issued due to her failure to appear," said Alpharetta Dept. of Public Safety spokesman Gordon of the Honorable Lee Whiteside's Jan. 28 bench warrant for Brown's immediate arrest.
As RadarOnline.com reported, three days later accused drug dealer Max Lomas found the late superstar Whitney Houston's daughter lying face down and unresponsive in a bathtub in her Roswell townhouse.
MORE ON:
Bobbi Kristina Brown
As family continues to gather at Brown's hospital bedside and hope fades that the brain dead teen will recover, Alpharetta officials are no longer pursuing the case.
"In light of recent events involving Ms. Kristina Brown, we are not focused on the warrant issue. In fact, we asked the court to dismiss the warrant and recall it, which they did," Gordon tells RadarOnline.com. "The important issue is we hope the grieving family and friends find comfort during this difficult period."