Clive Davis Heartbroken, New Details Of Bathtub Recovery & More: 3 New Developments In Bobbi Kristina Brown Tragedy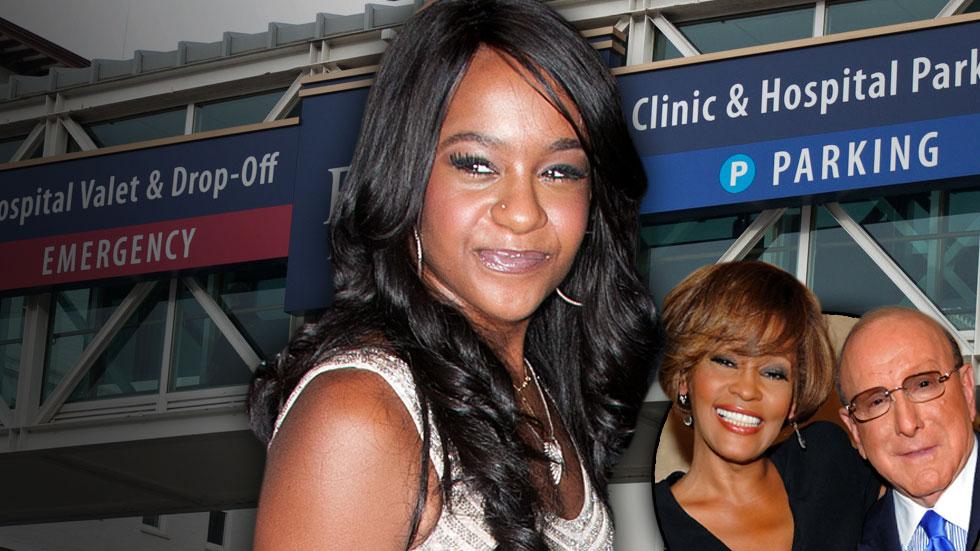 As Bobbi Kristina Brown hangs onto life, her mother's longtime mentor Clive Davis' reaction to the tragedy, and new details on the bathtub incident, lead Friday's updates.
Davis Breaks Silence
Davis, who helped establish Whitney Houston as a music legend, said he's been in contact with Bobbi Kristina's family, who were "so grateful" to hear from him. The music industry executive told the AP that "it's heartbreaking to see the family go through this pain once again." Speaking to ET, Davis said he's offered "support, solace and prayers" to the show biz family via Houston's sister-in-law Pat. He added that "the family really requests privacy at this very trying time, and certainly I'm going to respect it, and I'm sure everybody else will too." In a cheerless coincidence, the interviews took place during a rehearsal for his annual pre-Grammys party at the Beverly Hilton Hotel, the venue where Houston was found dead Feb. 11, 2012.
Article continues below advertisement
Tragic Timeline
The arrival of a Xfinity cable technician to Bobbi Kristina's suburban Atlanta townhouse triggered her discovery, face-down and unconscious in a bathtub, according to a legal rep of her friend who made the grim discovery, Max Lomas. The accused drug dealer's attorney Ashleigh Merchant told E! that the tech's arrival Saturday caused Lomas and Nick Gordon to scour the home to look for her. Merchant said that Gordon "was actually the one who answered the door for the cable man, and he was showing the cable man around" while Lomas searched the house for Bobbi Kristina. Lomas said "that he knocked on her door and he didn't get an answer, so he went in and checked on her to see how she was doing," Merchant said. Upon the horrific discovery, Lomas "called for Nick, screamed for Nick, and then he immediately called 911." Merchant estimated a 10-15 minute window of how long Bobbi Kristina was by herself, "but we don't know at what point she actually ended up in the tub during that time." Merchant stressed that Lomas has been cooperative with investigators and is not considered a suspect in the incident.
Bereaved Birthday
Amid the toughest days of his life, Bobbi Kristina's Bobby Brown, who tuned 46 Thursday, was joined by 20 relatives for a birthday dinner in a private room at a restaurant near Atlanta's Emory University Hospital, where the 21-year-old remains on life support. E! reported that Brown was with members from his side of the family, including wife Alicia Etheridge, who is pregnant with the "Roni" singer's sixth child. Brown reportedly looked worn down and tired at the get-together, where family members brought cakes and sang "Happy Birthday" to the embattled entertainer. There was beefed-up security on hand for the bash, with a huge media presence on hand covering the sad story.