Scientology Exposed! Church Forced To Reveal It Raked In $33 Million Over Two Years In Australia Alone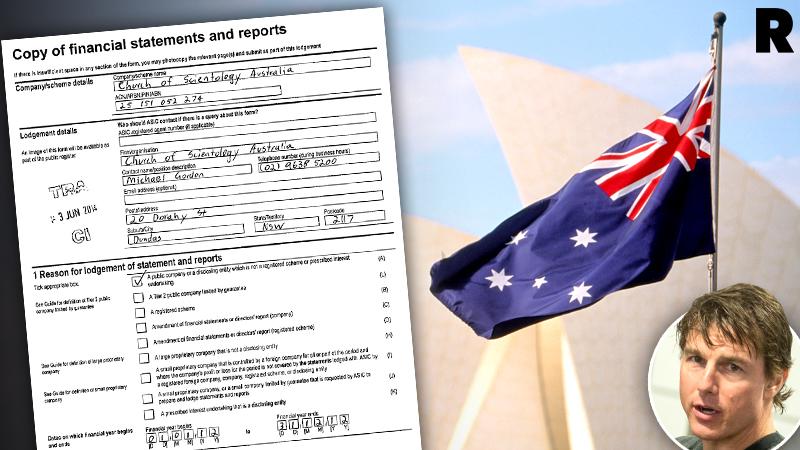 The Church of Scientology in Australia raked in an incredible $33.1 million over two years, according to financial documents the group was forced to file Down Under due to new laws.
"Scientology will, for the first time in Australia, be scrutinized for what it really is: a business, operated as a cult, masquerading as a religion," blasted television journalist Bryan Seymour, who extensively covered how Scientologists in the past worked around Australia's tax laws.
Article continues below advertisement
The huge sum came from as few as 2,000 members between 2010 and 2011. Despite the windfall, Scientology reported that they had a net loss of $305,531 for the same two-year period.
In 2011, the Australian branch of the religion picked up $10.5 million from "spiritual counseling and religious training" and another $8.7 million the following year.
Documents show it also earned $3.4 million during the two-year period from selling founder L. Ron Hubbard's series of religious books.
Some large expenses included $8.2 million for "volunteer allowances" and "volunteer welfare expenses" — employee payments calculated to run over $11,000 a day. Scientologists in Australia also paid out a reported $2 million on church services and $1.4 million on missionary work, among other charges.
Scientology Australia's spokeswoman, Virginia Stewart, explained away the huge fiscal failure: "Operating losses can happen, especially during periods when the church is expanding its outreach activities, increasing its service facilities and community programs," she told Melbourne's Herald Sun. "We have planning in progress for other locations of our churches in Australia and Asia."
Article continues below advertisement
RadarOnline.com recently uncovered tax papers from the U.K.'s Church of Scientology Religious Education College, compiled by an outside firm, that show that the organization brought in $21.5 million (£12,971,494, converted to dollars at current rates) in 2007 and roughly the same amount (£12,958,196) the year after that. Despite the millions flowing in, however, the Religious Education College was also operating at a loss, spending just over $10 million (£6,078,540) more than their income in 2007, and going $7.5 million (£4,556,449) into the red in 2008.
Scientology's books continue to remain shrouded in mystery in the United States, where the organization closely guards its tax-exempt status— ensuring the church does not have to file tax returns or disclose their financial secrets.
But, as RadarOnline.com reported, ex-Scientologist Vance Woodward is blowing the lid off the business of Scientology in a new lawsuit, claiming that Tom Cruise and John Travolta's church ripped him off to the tune of $600,000 during his time as a member.
And RadarOnline.com has learned the controversial church could soon be hit with another blow from former believer Leah Remini: According to one former Scientologist, the fiery actress is preparing to sue the Church of Scientology in an attempt to recoup the money she paid them over the years.