Exclusive
Playing Favorites: Anna Wintour 'Besotted' With Harper Beckham, 'Pities' North West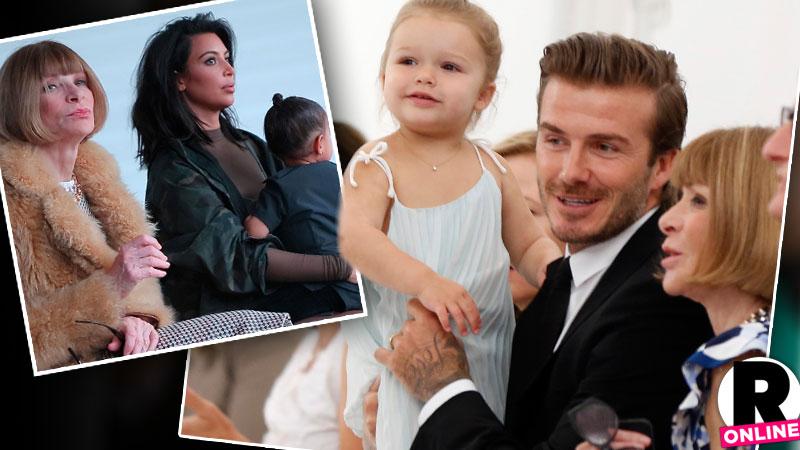 Anna Wintour has never shied away from expressing her opinions, and when it comes to North West, it's not a positive one! But while the Vogue editrix has reportedly slammed Kim Kardashian and Kanye West for dragging the toddler to New York Fashion Week events, she isn't totally immune to the charms of adorable celeb children. A Vogue insider tells RadarOnline.com that Wintour is "besotted" with David and Victoria Beckham's daughter Harper — even though North gets the cold shoulder!
Article continues below advertisement
During Victoria Beckham's fashion show in New York City last week, devoted husband David sat next to Anna Wintour with their three-year-old daughter, Harper, sitting on the former soccer player's lap.
And the Vogue source tells RadarOnline.com that Wintour was thrilled with her seat mate. "Harper is just a delightful little girl, and has such great manners," the source said. "Her mummy and daddy are always reminding Harper to say please and thank you. After Anna complimented little Harper on her outfit at the fashion show, she sweetly said in her little voice 'Thank you so much.'"
"Anna is absolutely besotted with Harper, and always sends the little girl birthday presents," the source continued. Meanwhile, the Beckham brothers, Brooklyn, 17, Romeo, 12, and Cruz, 9, "were also in attendance and front row and chatted politely with Anna."
HOTOS: Like Father, Like Daughter! 5 Photos Of Kanye & North Rocking The Same Style
"Anna is in awe of how well-grounded the children are, and how involved Victoria and David are in their lives," said the source. "The kids aren't spoiled and are just fun to be around. For Anna to say that is a very, very big deal. It's very hard to impress her."
Article continues below advertisement
Perhaps the Beckhams could give Kardashian and West parenting advice? According to the source, Wintour might think they should!
"Anna thinks Kimye just trot North around like a fashion accessory," the source claimed. "Exposing North to constant crowds, and dressing her in dark colors isn't the way to raise a child, according to Anna. Anna specifically takes issue with North always being dressed in all black, which Anna loathes as a look. It's just depressing, and the child always looks miserable!"
"The pictures tell the story," the source insisted. "Harper is always smiling, and North is often not. It's just sad."
Indeed, North, 20 months, infamously had an epic temper tantrum during dad West's disastrous fashion show, and photographers captured Wintour's displeased response.
"Anna wasn't mad at North, but thought it was a bad decision to bring the toddler," the source said. "Especially since the fashion show was delayed for almost an hour!"