Aaron Hernandez Murder Trial Loses Another Juror For 'Personal Reasons' — Just 4 Alternates Left!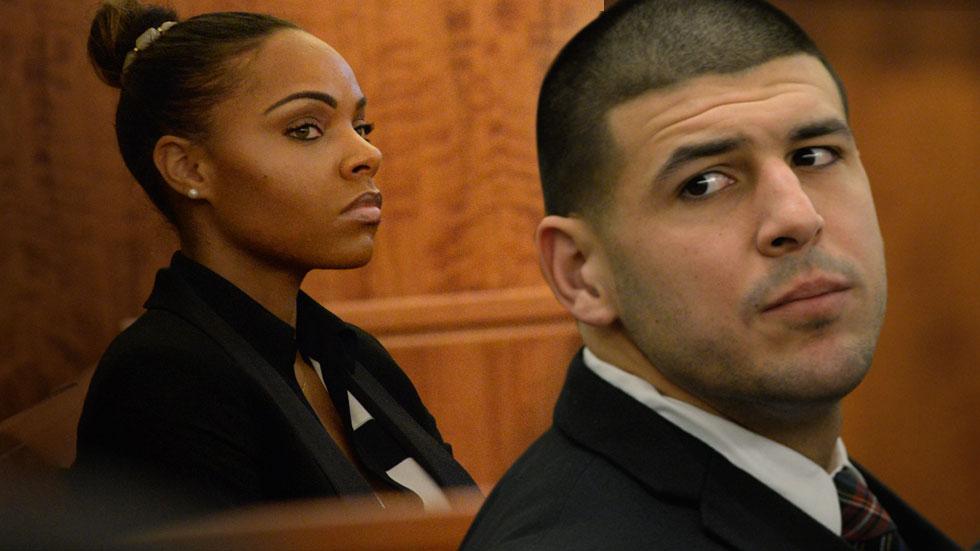 The murder trial lost another juror Wednesday, the second dismissed in just the first seven days of a trial.
The judge only cited "personal reasons" for woman's removal, which leaves just four alternates to back up the 12 sitting jurors needed to decide if the ex-NFL star is guilty of killing his fiancee's sister's boyfriend.
The loss of a second juror in just a week renews concerns about a long trial involving the former New England Patriot tight end.
Article continues below advertisement
Another female juror was kicked off the panel last week when the judge concluded she lied during jury selection, and that there was "credible evidence that the juror has attended more Patriot's games than were disclosed on the questionnaire."
Hernandez, 25, played for the Patriots until his arrest in the killing of Odin Lloyd, the boyfriend of his fiancée's sister.
The fiancée and mother of Hernandez's young daughter, Shayanna Jenkins, sat on the front row behind the defendant during Wednesday's court session. While prosecutors have not yet said when they expect to call Jenkins to testify, the judge cleared the way for her forced testimony by granting her immunity. Jenkins can no longer invoke her constitutional rights against self incrimination to avoid answering questions.
Prosecutors believe Jenkins got rid of the gun allegedly used in the murder, as it was captured on surveillance video in Hernandez's possession at his mansion minutes after the killing. Jenkins was previously indicted on perjury charges, for allegedly giving false testimony to the grand jury in this case.
Wednesday's session centered on testimony from police officers who were at the construction site where Lloyd's body was found. Defense lawyers are attempting to raise questions about how thorough the crime scene investigation was, suggesting evidence that could exonerate Hernandez was overlooked.