What Scandal? Defiant Teresa Caputo Announces New Tour Dates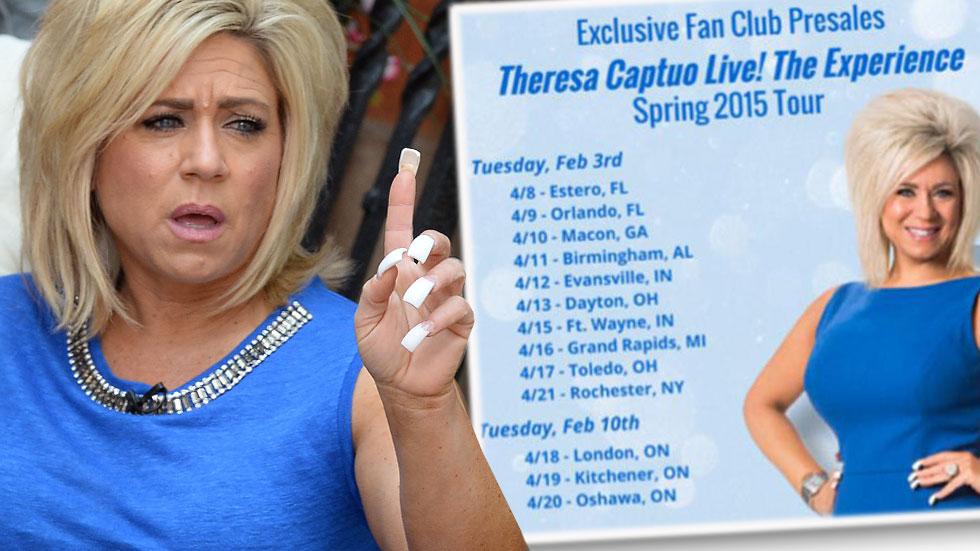 Long Island Medium Theresa Caputo is going back on the road, with 13 new tour dates announced, as the TV star faces a scandal threatening her credibility.
Beginning in April, the You Can't Make This Stuff Up! author will take her act through the Southeast with dates in Florida, Georgia and Alabama; onto the Midwest through Indiana, Ohio and Michigan; and north of the border for three dates in Ontario, Canada.
Article continues below advertisement
As RadarOnline.com previously reported, Caputo, 47, took more than a month off the road after a Dec. 17 show in Westbury, New York, when her show was picked apart in a newspaper review from the Long Island Press.
In a Dec. 21 review, reporter Jaime Franchi said she had major doubts about Caputo's authenticity after watching her botch a reading.
"I wasn't buying it, any of it," Franchi wrote. "For me, this unbelievable experience was simply that: not to be believed. In my humble opinion, Caputo is a damn good performer, and she's got undeniably likable sass and charisma.
"I just don't think she speaks with the dead."
It was the latest in a series of hits for the TLC star, who was skewered by fans and fellow celebrities skeptical of the schtick that's landed her a plum spot on the network.