Exclusive
'Love & Miss You Dearly' — Teresa Unable To Comfort Daughter Gia Over Family Death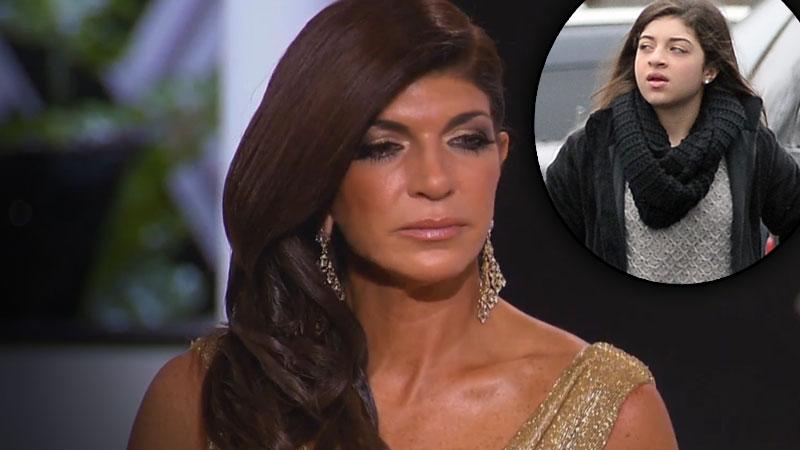 The Giudices are quickly learning the painful reality of what it means to have Teresa locked up until 2016.
The Real Housewives of New Jersey star's daughter, Gia, is especially having a tough time as she tries to celebrate turning 14 today.
"Gia is incredibly sad about not spending time with her mom on her birthday, but, like Teresa, she is very strong," an insider tells RadarOnline.com. "She is going to put on the best face and enjoy her celebration — and she knows that her mom loves her no matter where she is."
Article continues below advertisement
Despite the attempts to be cheerful, the pain Gia is suffering through without her mom's help was clear when she tweeted about the death of her beloved late grandfather, Frank, whose Jan. 7 birthday was one day before her own.
"Happy birthday nonno, even though your not here you're still in our thoughts always…love and miss you dearly…rest easy," wrote Gia.
As RadarOnline.com reported, 42-year-old Joe's father, Frank, died of a massive heart attack in the couple's backyard last summer, sending the family — and especially Joe — into a tailspin.
"This has been an extremely hard time in our lives," Joe's mom, Filomena, wrote the judge presiding over her son's fraud trial in November. "The heartaches my son is experiencing has overcome him. Joe has lost not only his father, but also his best friend."
RadarOnline.com can also reveal that the family has received some bittersweet news. Teresa 42, will only be required to serve 13 months of her 15-month sentence, and she is scheduled to be sprung from the Danbury Federal Correctional Institute in Connecticut on Feb. 6. Unfortunately for the Giudices, Joe will then be required to begin his 41 months behind bars.