Exclusive
It's War! Sonja Morgan Asks Judge To Sanction Her Millionaire Ex Over Claims He Took 'Personal Items' From Their Vacation Home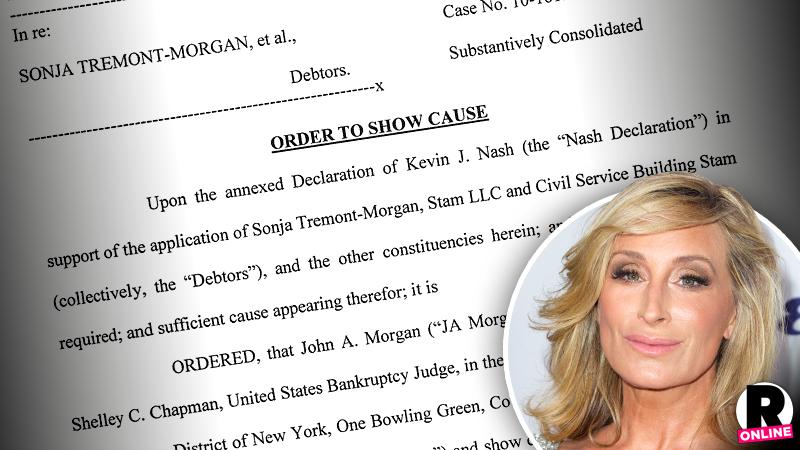 Nearly ten years after Sonja Morgan divorced her millionaire ex, John Morgan, the couple are still going at it in court. In the latest round, RadarOnline.com has learned, Morgan is accusing the financier of removing personal property from their vacation home — and she wants a judge to sanction him!
The trustee overseeing the Real Housewives of New York Sonja star's bankruptcy is asking a judge to sanction John for failure to turn over paperwork for the couple's former homes in Colorado and France. His refusal so far to cough up the documents is delaying creditors being paid in the reality star's Chapter 11 filing, the trustee argues.
Article continues below advertisement
According to court documents obtained exclusively by Radar, "Among other things, John Morgan promised to execute a stipulation providing for his full cooperation and all documents necessary to liquidate Stam France and tender a deed in lieu of foreclosure for the so-called Colorado property to the Colorado Lender."
"While we have given JA Morgan every possible opportunity to comply with his promises, his continued failure to execute the requested papers is hindering entry of the Confirmation Order," the trustee wrote.
What's more, Sonja accused John of visiting the Colorado mansion over the holidays and claims he "likely removed some or all of his personal items." Per the terms of their previous deals, the couple had agreed not to remove items from the property.
Now, the trustee wants John to explain himself to the judge in court.
Since their split in 2006, the Bravo star and financier — J.P. Morgan's heir — have been battling in federal court on various issues including unpaid alimony, $3 million owed to her in the divorce, and control of their Colorado mansion.
Sonja recently sold her French estate for $5.7 million in an effort to help pay off some of her $7 million bankruptcy judgement.
The judge will determine if John will be held in contempt and face sanctions.
Story developing.