'RHONY' Star Sonja Morgan Sells $5.7M French Estate To Help Pay Off Bankruptcy Debt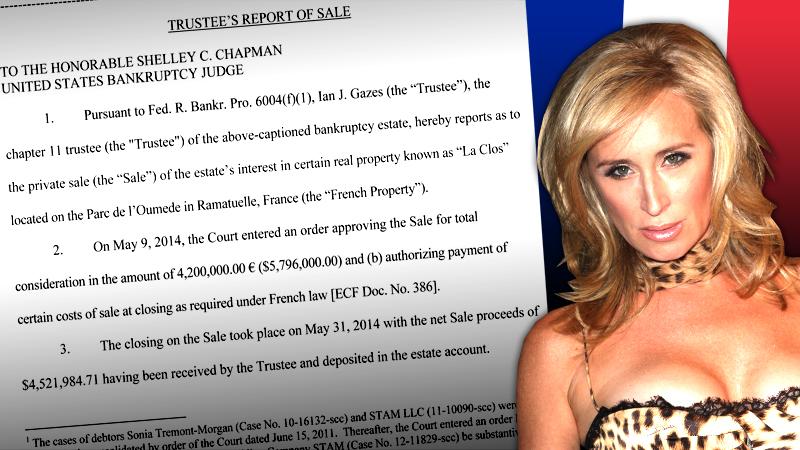 Real Housewives of New York City star Sonja Morgan just sold her home in Ramatuelle, France, for a whopping $5.7 million — which will be used to pay off the millions she owes creditors after filing for bankruptcy, RadarOnline.com is reporting.
According to court documents obtained by Radar, the reality TV starlet sold the French Estate on May 31 for $5.796 million leaving her with a net of $4,521,984.71 after closing.
Article continues below advertisement
COURT DOCUMENTS: Sonja Morgan Sells $5.7M French Estate To Help Pay Bankruptcy
After losing a legal battle with the production company Hannibal Pictures — who accused her of failing to raise money for a film to star John Travolta — she was slapped with a $7 million judgement and filed for Chapter 11 bankruptcy.
The trustee in her case reported the sale this week, filing documents with the Bankruptcy Court in New York on July 16 stating, "The Trustee of the above-captioned bankruptcy estate, hereby reports as to the private sale of the estate's interest in certain real property known as 'La Clos' located on the Parc de l'Oumede in Ramatuelle, France."
Morgan had originally listed the home at $8 million, but it clearly sold for much less.
The profit from the sale will likely be used to pay off some of Morgan's debt in the $7 million Hannibal Pictures judgement.
The divorcee's bankruptcy case is still pending while the Trustee tries to figure out how to pay off the rest of her creditors.