Exclusive
Sonja Morgan Cheating On 23-Year-Old Boy Toy? 'RHONY' Star Snapped Cozying Up With Former 'Bachelor' Lorenzo Borghese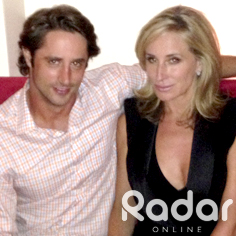 Article continues below advertisement
Sonja continues on, though, to explain the circumstances of her night with Lorenzo.
"I filmed an all-cast event at Le Cirque on Sept. 12 and then I organized a dinner party over at Jamie's restaurant and I invited Lorenzo," she says. "And he came to join me for dinner."
How Housewives Stars Go From Home To Hot – See The Photos
"I know Lorenzo because he and I work on different animal charities together including his own, Animal Aid USA," she adds. "I hosted Bidawee last year and he came with Tinsley Mortimer, his ex-girlfriend. Howard Stern was also sitting at the table with his wife."
EXCLUSIVE PHOTOS: 'RHONY' Star Sonja Morgan Snapped Cozying Up With Former 'Bachelor' Lorenzo Borghese
After an initial friendship, it sounds like Lorenzo started to show an interest in Sonja.
"I modeled in a charity event in June," Sonja says. "I was modeling with Marly my daughter's dog for Celebrity Catwalk's Paws in the City."
It's at that charity event that the flirtations started.
An insider says, "Prince Borghese was MCing. He was overtly flirting on the microphone as she came down the catwalk and was making flirtatious comments to Sonja."
Article continues below advertisement
But things only continued to heat up as the summer continued along.
"After he broke up with Tinsely, he asked me to co-host his charity at a rooftop event," Sonja says.
But it wasn't as innocent as Sonja makes it sound.
"I saw them leave in the wee hours from the rooftop this past summer," a partygoer says. "They got into a limo together. It was like two in the morning."
And just a month after Sonja was pictured cozying up next to her costar Aviva Drescher's ex-husband Harry Dubin, she was photographed snuggling up to Lorenzo at her late night dinner.
"Things seemed to be heating up on the couch at Jamie's restaurant," a source says, adding, "When the cat's away, the mice will play. We're seeing this pattern."
Sonja's response to the question of if she is romantically interested in Lorenzo?
"Well, I'm a grown woman," she says.
"When Ben is away, I have friends and I go out!"