Cute Or Cruel? Sarah Palin Blasts PETA For Criticizing Photo Of Son Standing On Dog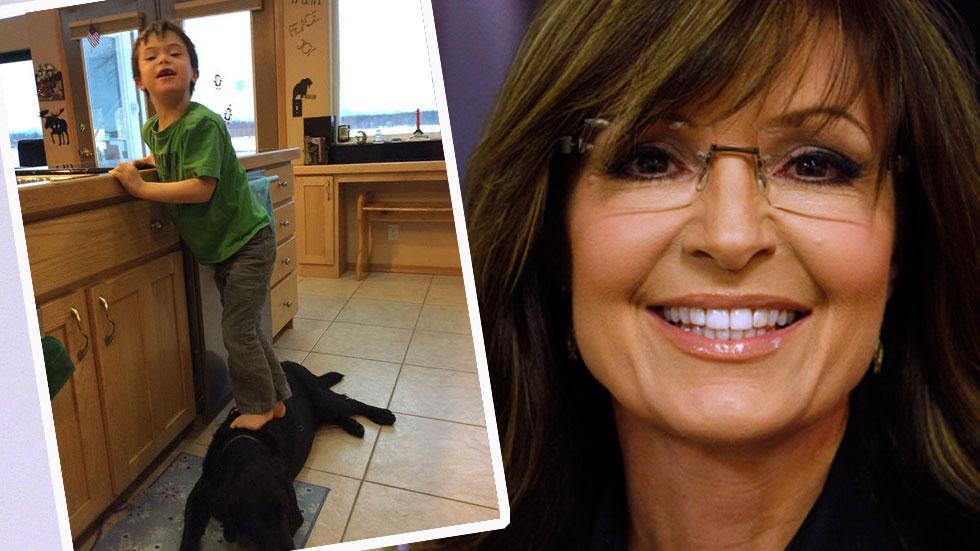 Sarah Palin is taking aim at animal-rights organization PETA after they complained about a photo Palin posted showing her six-year-old son Trig standing on top of the family dog.
"Chill. At least Trig didn't eat the dog," Palin wrote in an open letter to PETA on her Facebook page. She then went on to point the finger at Ellen Degeneres, who posted a similar photo of a child standing on a dog to reach the sink last July, and President Obama, who admitted in his autobiography that he ate dog meant while living in Indonesia.
Article continues below advertisement
Post by Sarah Palin.
Palin also ranted about PETA's stance on Alaska's Iditarod, commercial fishing jobs and leather.
Post by Sarah Palin.
She concluded, "Our pets, including Trig's best buddy Jill Hadassah, are loved, spoiled and cared for more than some people care for their fellow man whose politics may not mesh with nonsensical liberally failed ways or don't fit your flighty standards. Jill is a precious part of our world. So is Trig."
Post by Sarah Palin.
PETA responded, "Palin's Facebook response shows us that she knows PETA about as well as she knows geography. We have no reason to believe that the Palin companion animals aren't ordinarily pampered, and we wish the entire family a peaceful and humane 2015."
Do you think Palin's photo was inappropriate or cute? Tell us in the comments below.