Happy Birthday, Now Cease & Desist! NeNe Leakes Warns Kenya Moore With Legal Letter For 'False, Destructive & Defamatory Statements'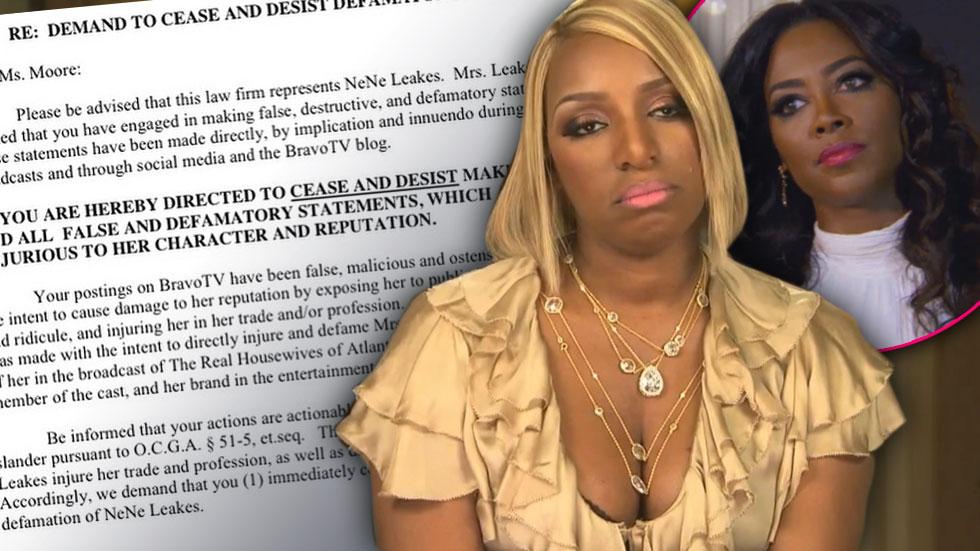 Kenya Moore shared a cease-and-desist letter her co-star NeNe Leakes sent her Tuesday, warning the former Miss U.S.A. to watch what she says about her.
The Real Housewives Of Atlanta beauty, who turned 44 this week, posted the letter to her Instagram page, captioning it, "I guess this is @neneleakes way of saying happy birthday! #HypocrasyAtItsBest #byegirl #SheTiredIt #SoNastySoRude"
The legal doc, in part, said that NeNe was aware Kenya had made "false, destructive, and defamatory statements" about her, ordering her "to cease and desist making any and all false and defamatory statements, which are injurious to her character and reputation."
Article continues below advertisement
http://instagram.com/p/yYbIYOjNkf/?modal=true
It also singled out Kenya's writings on her Bravo blog, which NeNe's legal team claimed were written with the "intent to cause damage to her reputation by exposing her to public hatred, contempt and ridicule."
While the two have been at one another's throats for much of their time together on the show, one sticking point might be donations both promised they would make to the Detroit Public Schools Foundation.
Last month, Kenya called NeNe "a ghetto, classless beast for cheating those kids out of $20,000" and she continued hammering her reality co-star on her blog Tuesday.
She claimed that while she paid $20,000 of her own money, as well as another $20,000 raised from her Celebrity Apprentice appearance, she wrapped up by saying, "The real question is: Where is NeNe's $20,000? #IllWait."
NeNe, for her part, didn't directly address Kenya's revelation, but was likely alluding to it Tuesday night when she tweeted, "The Thirst Is Real! They need me for press because they can't get none."