NeNe Under Fire! 'RHOA' Star Leakes Caught In Legal Battle With Designer Over T-Shirt Slogan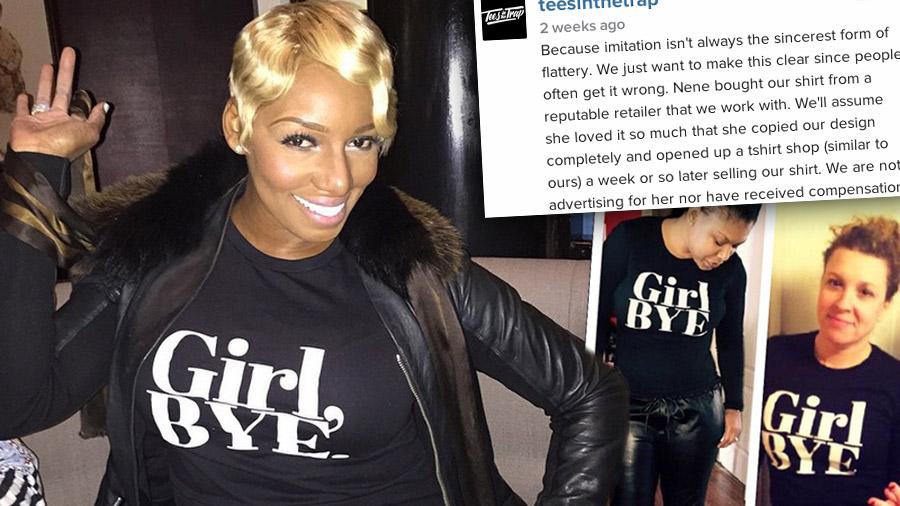 Girl, bye! See you in court? NeNe Leakes has made that catch phrase famous on The Real Housewives of Atlanta, but RadarOnline.com has exclusively learned that now it's at the center of a legal battle between the reality star and a tee shirt designer, who claims Leakes stole her "Girl, Bye" t-shirt design and tried to sell it as her own.
Arsha Jones, the owner of Tees in the Trap, spoke out about the situation, telling RadarOnline.com that she believes she is being bullied by the Bravolebrity and she isn't backing down.
Article continues below advertisement
"I created the t-shirt that read 'Girl, Bye' and started selling it on my website in April 2014. NeNe actually wore it on November 17, 2014 and there were photographs and I was so excited," she told RadarOnline.com. "I thought my little business would get a boost from her and the shirt was really selling. I was going to send her a package of free goods with all the new things I was working on."
However, Jones told RadarOnline.com that just a few weeks later Leakes began selling her own version of the shirt, which also read "Girl Bye." Though it had no comma, Jones believed it was a blatant copy of her model.
"When I saw that she took my shirt I was shocked. I was so disappointed," Jones said. "NeNe talks about being real and it caught me off guard that she would portray herself like that on television and then come off as the complete opposite in real life."
Jones filed a Digital Millennium Copyright Act complaint with Shopify, the site that was selling Leakes' t-shirts, and they promptly removed the line. The following day, Jones received a cease and desist letter from the reality show star's lawyer.
Article continues below advertisement
The letter, dated December 16, 2014, which RadarOnline.com obtained, states that Leakes has made the phrase famous and demanded that Jones discontinue selling her shirt.
"Ms. Leakes has been using the phrase 'Girl Bye' for over two years on her television show The Real Housewives of Atlanta and in public," it reads. "The 'Girl Bye' phrase is widely associated with Miss Leakes due to Ms. Leakes' fame and high level of exposure in the public limelight. In fact the public commonly refers to the 'Girl Bye' phrase as a 'Neneism,' the letter states.
The letter demanded that Tees in the Trap discontinue production of anything with the phrase "Girl Bye."
"We hereby demand that tease in the trap cease-and-desist from any and all uses representations or associations of Ms. Leakes' image and use of the "Girl Bye" phrase. We further demand that Tees in a Trap immediately discontinue all sales of T-shirts and/or any other clothing items and apparel bearing the "Girl Bye" phrase.
Article continues below advertisement
Jones told RadarOnline.com that she doesn't understand why NeNe "stole" from her.
"NeNe didn't file for her trademark until the beginning of 2015," she said. "I've been selling my shirts for much longer than that. I'm an experienced business woman and I am surprised that she didn't come up with her own design. She can reach millions of people; we are just a small business. I am not going to be bullied by NeNe."
And Jones said she has no plans to stop selling her products, despite Leakes' attempts to crush her.
"This is my livelihood. NeNe is unnecessarily stealing from me," she told RadarOnline.com.
Leakes' attorney did not respond to RadarOnline.com's request for comment.