Growing Up Too Fast! Kylie Jenner Is Obsessed With Looking Older And Momager Kris Jenner Is Pushing Plastic Surgery On Her Already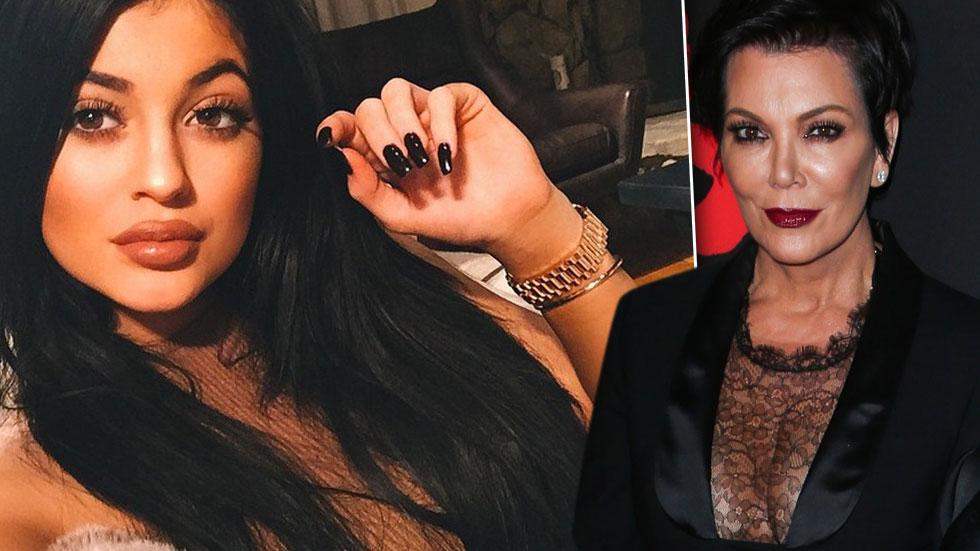 Kylie Jenner is trying to grow up too fast and the youngest daughter in the reality family is already being encouraged to get plastic surgery – by her own mother!
The 17-year-old "seems obsessed with looking older," a new report in Life & Style claims about the fresh-faced beauty who is sporting a new, darker look.
"She's obsessed with lip injections," a source told the magazine.
And her leap into adulthood is being actively encouraged by Kris Jenner, who famously pushed her older daughter Kim Kardashian into filming a sex tape. The matriarch of the family has been comparing her two youngest daughters and pushing the plastic surgery
Article continues below advertisement
"Kris is constantly saying how beautiful Kendall is and doesn't say the same thing about Kylie," the source told the magazine.
"Kris has always encouraged plastic surgery has told Kylie how procedures like fillers and lip pumpers can make a huge difference."
The teenager's darker look is apparently an homage to Mrs. Brad Pitt.
"Kylie wants to look just like Angelina Jolie. she wants Angie's lips, and that's why she can't stop injecting. It's also why she has sort of a dark style. Kylie wants that image, edge and sex appeal."
Another source told Life & Style that Kylie is just trying to follower in Kendall's footsteps.
"Kylie is absolutely acting out she tries to get attention by dressing provocatively. It's textbook."
What do you think about Kylie's darker look? Tell us in comments.