Exclusive
Bad Dog Mom? 'RHOBH' Star Kim Richards 'Improperly' Raised Her Pit Bull As An 'Attack Dog,' Trainer Claims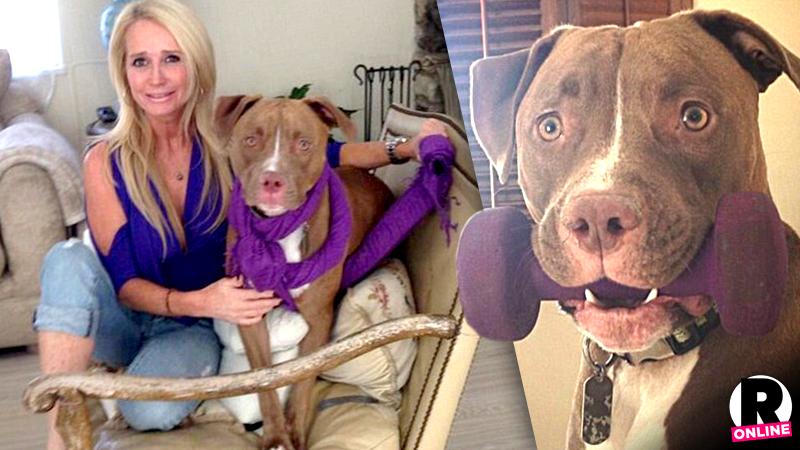 Real Housewives of Beverly Hills star Kim Richards removed her pit bull Kingsley from her home after the dog's vicious attacks on several people. But a trainer that claims to have worked with the animal recently tells RadarOnline.com exclusively that she has no one to blame for the dog's actions but herself.
"That dog has an issue with resource guarding," says the trainer, who did not want to be identified by name.
Article continues below advertisement
"Resource guarding means that they have a resource and they guard it. Usually the counter-condition and the cure is to remove the resource. If it is a tennis ball, or a bone, or a dog toy, you remove it and then you reintroduce the resource slowly."
"The problem with Kingsley is that the resource is Kim," the expert says.
Last November, Alexia Umansky, the daughter of Kim's sister Kyle, was attacked by the dog and required stitches. Following that attack, family friend Kay Rozario slapped Richards with a lawsuit over being mauled by the pit bull while staying at Richards' Beverly Hills home.
"With Kingsley, if you go anywhere near Kim or in her proximity, he just goes into attack-mode," the trainer claims. "That is dangerous. We wouldn't call this a protection dog, we call it an attack dog."
According to the trainer, "Her dog had trainers prior to me, and everything they did, they did wrong because they did not diagnose the dog correctly with the issues that he actually had."
"The problem with previous trainers is that they removed the dog instead of removing Kim."
"She loved on it so much that she never laid down boundaries and with an empty-nester like Kim, where people are leaving the home, that dog attaches itself to its owner," says the trainer.
"That dog is a male. Kim is a female. There is a lot that has to do with that as far as dog as the dog's willingness to protect."
Do you think that Kim Richards is to blame for the pit bull attacks? Let us know in the comments below.