Jon Voight Opens Up About Daughter Angelina Jolie's Suicide Shocker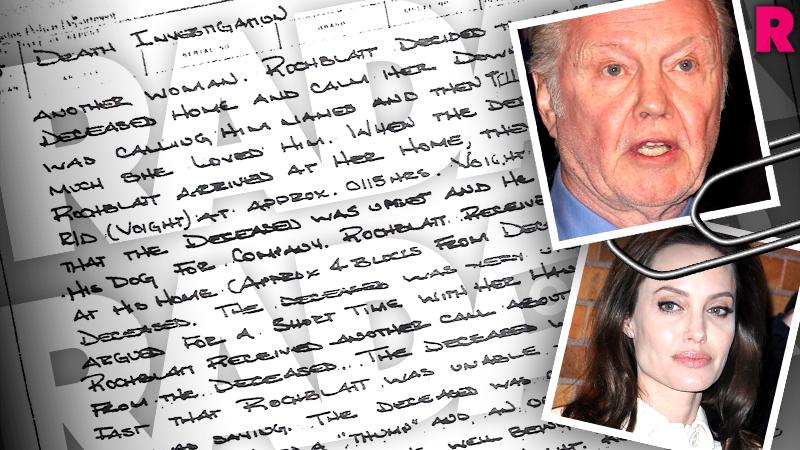 A bombshell coroner's report buried for over two decades reveals that Angelina Jolie's teen years were shattered by the shocking suicide of a modeling agent close to her family.
Now 76-year-old Oscar winner Jon Voight has told The National ENQUIRER: "She was a troubled soul and I did try to help her – just like dozens of other people who were suffering that I've tried to help.
"It's a very sad thing that happened. She took her life – and I knew her. The girl tragically killed herself."
Article continues below advertisement
The woman, Julie "Cindy" Jones, relied heavily on Voight at the height of Jolie's "wild child" phase, sources revealed.
Just 15 when the tragedy occurred, Jolie was the ultimate Hollywood rebel, dressing in black, experimenting with drugs and regularly mutilating herself.
As RadarOnline.com reported, Voight had rented a home for Jones, and an L.A. County medical examiner's report details how he found the 33-year-old stunner on the floor of the home with a bullet in her chest on March 11, 1991.
Voight called 911, and notes taken by first responders said she was last known to be alive in the early hours of that day.
An investigator said Jones was "the victim of an apparent self-inflicted gunshot wound." The coroner concluded that she committed suicide while "despondent" over her "new relationship" and a broken marriage.
During two phone calls with The ENQUIRER from his California home on Jan. 2, Voight said he wanted to make clear that any rumors stating he was romantically involved with the woman are false.
Article continues below advertisement
"We were just friends. I was not going with this person," he insisted.
Voight acknowledged that his famous 39-year-old daughter, Jolie, was a teenager at the time of the tragedy and was also "troubled," but said there was "no connection whatsoever" between the two women.
Voight blamed detractors for fueling a scandal linking him to Jones' death.
"I have enemies," he said. "There's people out there who are looking to do me in."
For more on this story, pick up the latest issue of The National ENQUIRER, on newsstands now.