Exclusive
Gay For Pay? Jax Taylor Telling Friends Those Pesky Gay Rumors Are All About Ratings!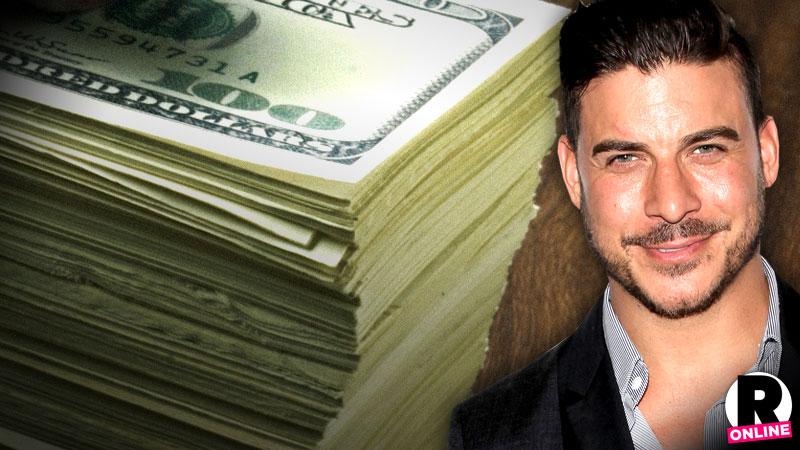 Are the gay rumors surrounding Vanderpump Rules star Jax Taylor just another case of creative reality TV editing? RadarOnline.com has learned that the ladies' man model is telling friends that new claims he is a homosexual are simply another Bravo ratings ploy.
"The network set that up," a pal of the 29-year-old Taylor told Radar. "They want things to look a certain way."
Taylor, most recently linked to Carmen Dickman, has had rumors swirling about his sexual orientation since the latest episode of the show!
Article continues below advertisement
When an old modeling friend, John Walters, appeared at a dinner with the Vanderpump Rules cast, things quickly turned hot and heavy: Taylor was quick to volunteer how he "stayed in his (John's) room" in Miami, and both men revealed that Walters has a nude photo of Taylor hanging in his living room.
As the night went on, it cut to a club scene in which Walters was heard telling Taylor, "I… still love you as much as I did in the first place," to which Taylor responded, "I'm a bigger person now. I was just thrown into it right off the bat." Taylor added, "That was my first time ever. I didn't know what anything like that was like."
In the confessional related to the scene, Taylor tells the cameras that, "I was a younger model. I was hanging out with an older gay guy. People are going to talk no matter what. People love to throw rumors out there."
Most recently, a man previously identified as Taylor's "boyfriend" told Radar that the rumors were much ado about nothing.
But Taylor added fuel to the fire Monday night after a Watch What Happens Live poll found that 96% of viewers though Taylor and Waters had hooked up. Taylor quickly took to his keyboard and fired off a tweet that stated, "well if giving your boy a kiss is gay then they are right !!! I don't give a s**t what people say."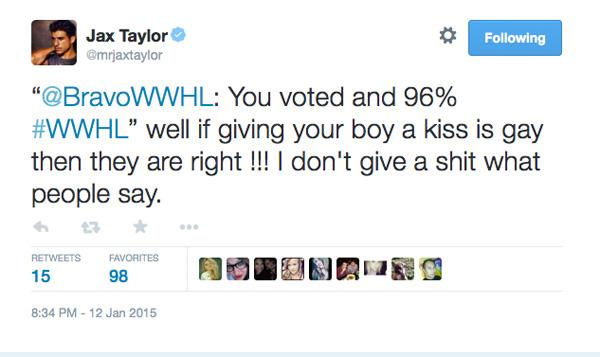 Taylor's friend told Radar: "Jax doesn't care what people think about him. He's confident and fine with them thinking whatever they want to."