Exclusive
Two-Hour Workouts, A Brutal Diet & Sexy Clothes: Inside Gwyneth Paltrow's Midlife Crisis Makeover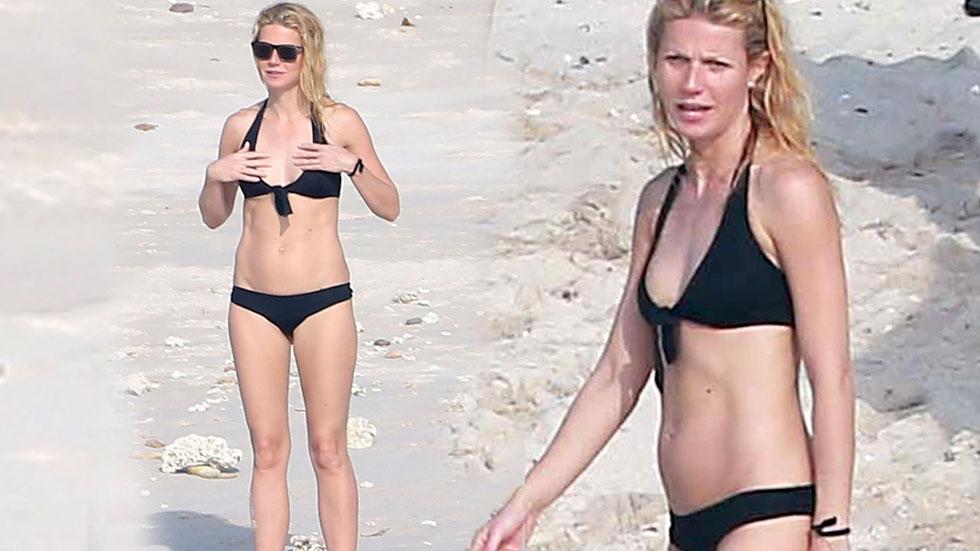 Gwyneth Paltrow is looking better than ever, flaunting her fabulous bikini body while on tropical vacations, but those close to her are worried that her new look is a sign she's going through a midlife crisis.
Paltrow, 42, has reportedly been stepping up her workouts ever since the man she "consciously uncoupled" with, Chris Martin, 37, moved on with much-younger Jennifer Lawrence, 24.
"Gwyneth prides herself on having a better body now than when she was 22, but seeing that Chris is dating someone SO young has made her really want to make sure she's in top shape," an insider said. "It's not even for him. It's for her, but she needs to feel like she is better looking than anyone else he could ever date. She's relentless about her figure."
Article continues below advertisement
Two-and-a-half-hour workouts and detox dieting are the norm, according to the insider.
Meanwhile, Britain's Heat magazine reported that's not all she's doing to prove she's still hot. "She's also taking more risks with her fashion to try and look younger," an insider told the magazine. "She took four hours getting ready for the Golden Globes."
"Her friends are on midlife crisis alert," the insider continued. "They worry she'll try to outdo Jennifer, and no one in Hollywood is more competitive than her."​
Meanwhile, Martin and Lawrence are only heating up, ensuring Paltrow won't abandon her efforts any time soon. The new couple were recently spotted dining at Madeo, a high-end West Hollywood restaurant that was once Paltrow and Martin's fave.
Gwyneth had "been there loads before with Chris, when they were together and since they separated to talk about the kids, so it must've been a total slap in the face," a source told Heat.
Do you think JLaw is a better match for Chris than Gwyneth? Let us know in the comments!