Travel Like GOOP – Gwyneth Paltrow Touts Ridiculously Expensive Ultra Luxurious Vacations & There's Even A Couples Rehab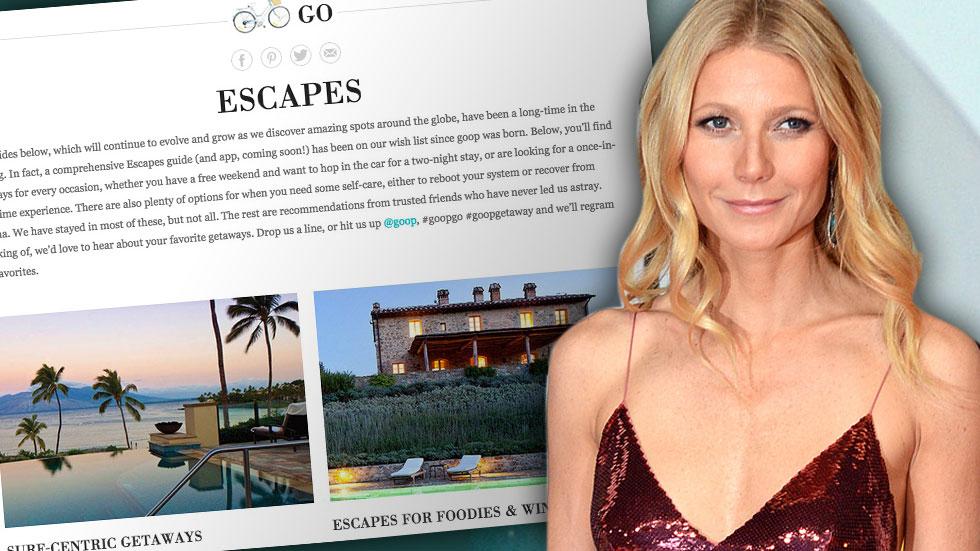 The queen of all pretentions is at it again! Gwyneth Paltrow reportedly spends $21,000 a month on beauty regimes and now she's getting into the high end travel business - sharing her ideal vacation spots all over the world with her trademark eye for luxury and even a place for couples therapy.
On GOOP.com the Park Avenue Princess has created a new section called "Escapes" that adviser her followers of where to jet around the world for vacations as fabulous as she is.
Article continues below advertisement
Paltrow assures her readers that these are the very best hot spots on Earth, writing: "We have stayed in most of these, but not all. The rest are recommendations from trusted friends who have never led us astray."
A "GP Favorite" under "Surf Centric" escapes is an Aman resort in Sri Lanka called Amanwella where an ocean suite is available in February for a cool $1325 a night.
Another fabulous find under trips for "Foodies and Winos" is a winery in Italy, Castiglion Del Bosco, that is a more reasonably priced $565 a night.
For a "Quick Getaway" the Ritz-Carlton is Naples is mentioned but it doesn't seem to live up the Paltrow's high standards for a jet set lifestyle.
"Admittedly not one of the most exciting getaway options, the Ritz in Naples is a classic, large-scale resort experience without the international flight," she snidely writes about the Florida resort.
And always a self-help guru, GOOP is also helping those looking for places that help "Grief, addiction, childhood trauma, and failing relationships are all addressed at these spots. A couple are full-fledged rehabs, though all believe healing is essential, and that support is key."
Article continues below advertisement
Perhaps this is how Paltrow and her husband Chris Martin decided to "consciously uncouple?"
The Breakthrough Program at Caron is "Created by marriage and family therapist, Ann Smith, the Breakthrough personal growth workshop intends to meliorate roadblocks on the path to healthy relationships, satisfaction, and overall happiness. Located at Caron Treatment Center's Pennsylvania facility (which is in of itself an excellent rehab where people experience a lot of success in overcoming addiction and trauma), this 5-day in-treatment program focuses on Experiential group therapy.
Would you travel to any of GOOP's "Escapes?" Sound off in comments below! ​