Golden Globes 2015: By George! Clooney Wins Lifetime Achievement Award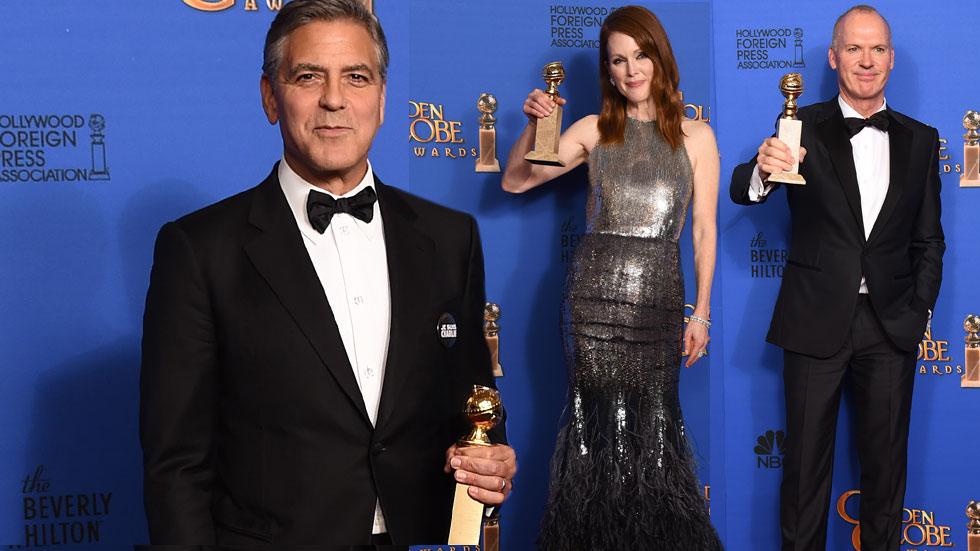 Article continues below advertisement
"It's a humbling thing when you find someone to love," the longtime bachelor said, glancing at his lady love (who he tied the knot with last fall). "Even better when you've been waiting your whole life."
The debonair actor told the Hollywood Foreign Press Association, "You've always been very kind to me ... I thank you for keeping small films alive. Big ones do fine. It's the little ones that need an audience."
Watch the video on RadarOnline.com
He told the show business peers, "If you are in this room, you've caught the brass ring, you've gotten to do what you've always dreamed of doing. That isn't losing."
The politically-active actor -- with a button reading "Je Suis Charlie" pinned to his tux -- lauded those who had taken to the street in France this weekend in the wake of last week's attack on the publication.
Article continues below advertisement
"They didn't march in protest, they marched in support of the idea that we will not walk in fear," he said.
Check out the full list of winners
Elsewhere, Boyhood took home the honors for best drama picture while director Richard Linklater won the best director for a drama.
Watch the video on RadarOnline.com
Julianne Moore captured the best actress in a motion picture in a drama for Still Alice, while Eddie Redmayne was the best actor in a drama for The Theory of Everything.
In the comedy spectrum, The Grand Budapest Hotel took home best motion picture honors, while Amy Adams (Big Eyes) and Michael Keaton (Birdman) won the best actress and actor honors, respectively.
Other notable winners included John Legend and Common, whose song "Glory" from Selma was the best original song in a motion picture; and acting icons Kevin Spacey (best actor in a TV series, drama for House of Cards) and Billy Bob Thornton (best actor in a TV movie or mini-series, drama for Fargo).